A running belt is a pack which is worn around the waist and plays roles similar to that of an armband. Its central function is to hold your properties while you run or during your workout. Some of the important things that a running pack helps to hold while you run or jog includes water bottles, keys, card etc. Below is a review of 11 best running belts available to buy in 2020:
To check out best running belts in 2020 quickly then click links below but if you need to read complete reviews of these belts then scroll down below:
Best running belts 2020 reviews
1. FlipBelt Running Belt With zipper
The FlipBelt Zipper is a comfortable running belt which can be used as an alternative to running armband for runners who really don't like the pouches or armband. It is designed in such a way that it sits flat and securely on users hips without riding up or bouncing. It does not cause uncomfortable chaffing either, nor does it have buckles to pinch, all you need to do is to put the FlipBelt Classic on like a pair of paints either under or over your clothes and continue to run, bike, hike and much more.
It comes with a moisture management fabric which helps it to endlessly and effortlessly wick sweat and any moisture as they are being produced. After it is wicked, the system transfers the moisture to the outer layer of the fabric where it will be evaporated, keeping you cool, dry and comfortable. Aside from this, the fabric easily stretches to hold phones, keys, card and small medical devices.


Features
Moisture-wicking fabric:
It helps to wick sweat and dries incredibly fast
Internal key hook:
This is for added security
Multiple pocket openings:
This is for extra storage
Zippered pocket:
This offers a secure storage space for valuable properties
3M reflective logo:
This can be used to improve visibility during low light conditions
Pros
1.The belt does expertly what it was designed for and it is good to go even without the need to carry a purse
It features a zipper compartment which is excellent for storage of small but important items such as bank card, drivers license etc
Large sized phones, for example, tablets can fit in the open/non zip pocket
Cons
The black dye used for the belt finishing rubs off and tend to stain light color items that it has contact with
You will probably need your both hands to put your phone in or out


---
2. Nathan Trail Mix Hydration Running Belt
The Nathan Trail Mix 2 Bottle Belt comes with twin insulated bottles and a small but quite handy storage pouch which works well in warm conditions. Although it has a limited carrying capacity, the insulated bottles present an excellent way through which users can stay hydrated on short to medium-length runs.
The Nathan Trail Mix 2 Bottle Belt allows you to hit your favorite tracks with the confidence that you will always be hydrated anytime you need it. There is no doubt you will love this belt as it is fully adjustable and comes with features that fantastically makes it comfortable and gives it a bounce-free fit. The belts zip pocket and its extra stash pouch offers the space to store your nutrition, media, and most other essentials.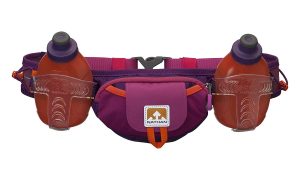 This best trail running belt is quite soft and averagely stretchy. It has a lightweight and it has a surprisingly clever build up. It comes with 2 Speed Fit good quality plastic holsters which helps to hold the 2 bottles securely.
These bottles also come in an interesting design. It has a reflective print on outside which helps it to be safe and it is also insulated to preserve stuff in cool or warm state, depending on the needs of the user. It has a zipped pouch with several shock-corded medium loops that help to hold a bar or gel allowing for easy access when on the move.
Features
It comes with reflective trims
It can fit up to iPhone 7Plus
It features two 10 oz/300 mL flasks with Push-pull caps
It has an elastic keeper which easily and neatly hold excess traps
The SpeedFit holsters offers an easy, one-handed, on the go access to nutrition and hydration
Pros
The pouch comes with 5 smaller sections which are carefully designed for running situations
It is a fully-adjustable belt, meaning that regardless of your shape it can work perfectly for you
Very comfortable to wear
It comes with velcro loops which helps to hold the excess belt length
Cons
The water holsters can be a little tight to get in and out of
Some users have complained that the pouch is not big enough for their phone, to be precise Samsung Galaxy S5.


---
3. Peak Gear Bottle running Belt
The Peak Gear Water Bottle allows users to enjoy their favorite activities without stressing over their water bottle or other belongings. It is designed with such slim profile which allows even the most serious joggers or runners to be comfortable. The belt has an alternative purpose of being used as a small fanny pack for a rather casual purpose. It can house most phones from iPhone 6 to Samsung Galaxy.
The belt can be used with or without a water bottle. Peak Gear does not compromise on quality to save costs. The company has a reputation for producing great products.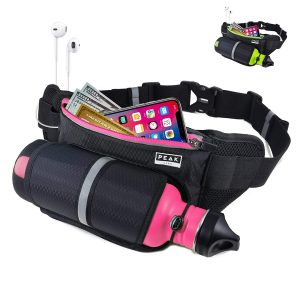 Features
Innovative design:
It comes with an innovative design which features multiple pockets that houses smartphone, credit cards, key and most other accessories. This allows users to easily listen to music through the headphone slit. The belt is lightweight which allows for easy jogging, walking of your dog etc. Your water bottle can be carried on either side for right-handed or left-handed use.
Flexibility:
It can be used with most store-bought 12oz water bottles, including sports drink bottles such as Powerade and Gatorade. For other products, they become useless when the original bottle gets lost, dirty or broken. But that is not the case here. The side bungee straps helps to keep the bottle intact, preventing it from sliding out.
Reflective strips:
It comes with multiple reflectors on the front, side and zipper which helps to make nighttime activities much safer. To be on a safer side, you can use the side straps to hold a pepper spray bottle or a flash light.
Comfort and Convenience:
It comes with a soft rubber backing that helps prevent the belt from slipping. The belt will ensure a better weight distribution with its front bottle pouch than other waist belts with bottles that are around the side or at an angle. There is also little or no chance of knocking the bottle with your arms. It is excellent for men and women. It has a soft elastic strap which guarantees a snug fit and moves with users body.
100% satisfaction guaranteed:
The Peak Gear company has built a reputation of excellence with its high quality products and outstanding customer service. This belt is constructed with the most reliable materials and will last you for many years.
Pros
The pack comes with an ergonomic pocket design that makes it easy to access your water bottles
The pack comes with reflective straps which allows you to run even at night
It is very flexible, allowing you to use it with most water bottles
Cons
Some customers have complained about the elasticity of the belt which causes the belt to sag when there is water in the bottle
When water is in place it causes some knocking against the body when jogging
The elastic nature of the belt means that with time and exposure to the elements, the belt will experience wear and tear causing it to lose this functionality


---
4. Kinetic K1 Sports Belt from Sporteer
A simple armband is getting more and more incapable of housing smartphones, battery packs etc during exercise, as these gadgets are getting larger by the day. The Sporteer Kinetic K1 Running Belt is most ideal for hikers, runners and weightlifters who love comfort, durability and wish to have access to all the features of their smartphone while they are exercising. The belt is compatible with all major smartphones up to 165mm x 85mm. It can be used for all the major smartphones.
The belt is flexible as well as adjustable, allowing for a perfect fit on a wide range of hip and waist sizes.  The company is an American-based company and every of their product are backed with a full 1 year warranty and a USA customer support.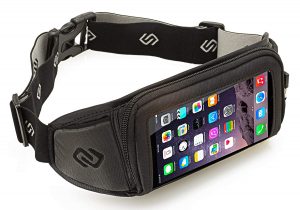 Features
It has a runner waist pack designed to fit large phones and cases. It is a perfect running belt for iPhone Xs, iPhone XR, iPhone 8 Plus, 6S Plus, 7 Plus, Galaxy S8 etc.
It allows full access to phone screen. Users have full access to their phones screen and functionality, and can control music, apps and other features.
It features a sweat resistance foam backing and moisture barrier which ensures that the belt fits comfortably and securely, even when you are carrying large and heavy phones.
Some of the other features that come with the belt includes a full frontal touch screen, lightweight and bounce-free design, locking zippers to avoid rattling, internal pocket and extra space inside for carrying ID cards, keys, cash and other items.
Pros
It is water resistant
It comes with multiple pockets
It can be worn inconspicuously
Cons
The smartphones that fit in are only up to five inches


---
5. Fitletic Ultimate Running Belt
This is the first refueling belt of its kind. It comes with an exclusive patented design that enables users to carry enough gels for prime endurance without hindering performance. It was designed particularly for long distance athletes. It is a multi-purpose belt which can be used as a trail running belt, race belt, triathlon belt, ironman belt, jogging belt, sports belt or even a sports fanny pack. It has a wide range of uses. It can equally be used for hiking, walking, trekking, rollerblading, cycling or workout.
The technology guarantees no bouncing, riding up or chaffing. It comes with a zipper pouch which holds cash, and phone. The belt is made from neoprene, which makes it water resistant helping to keep possessions safe and dry. The internal pocket come with separator which holds credit cards, ID card, and also helps prevent smartphone from getting scratched.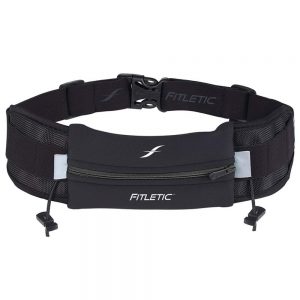 Features
No bounce:
The belt features an exclusive patented technology that guarantees no bouncing, riding up or chafing when working or running.
Phone holder:
It comes with a phone holder which fits up to Samsung Galaxy S8+ and iPhone 9 Plus allowing users to play music, use apps or make calls while working out.
Comfortable:
It features an ergonomic design which shapes up to users body. It has an ultra-soft dual-adjust waist belt. All the features of this belt is included to increase comfort and convenience.
Versatile:
The belt has versatility built in it seems. It can be used as a race belt, trail running belt, triathlon belt or an ironman belt.
Water resistant:
It is made from neoprene pouch which is water resistant and helps to keep phone and other important items dry.
Pros
It can hold iPhone and camera
It features a unique pocket which holds car keys so it won't fall out when users are trying to pick their phone or camera
It is water resistant
It fits comfortably and snuggly
It comes with hydration add-ons
It features race bib holders
Cons
Although it is quite easy, it sometimes take a few minutes to put on and take off the water bottle holsters
Some users complain that the bib hangs too long
The belt can slip down if the hydration add-on isn't placed on the side of the hips


---
6. Running Pouch Belt from Sport2People
Are you a runner who can't help but have your phone with you as you move? Or are you someone who needs the rhythm of energetic music in your ears to achieve great feat running? Do you feel a need to carry your keys with you but can't think of how to keep it without disturbing your run? If you fall into one or more of the above listed categories then the Sport2People Running Pouch Belt is apt for you.
The Sport2People pack is all that you need for your runs, it features two zippered and expendable pockets, which is designed for runners to have their valuables at their fingertips. The larger pocket is big enough to hold iPhone 6,7, 8, 8 Plus and Samsung Galaxy. The smaller pocket is apt for keeping of credit cards, gels, tissue, and for storing keys.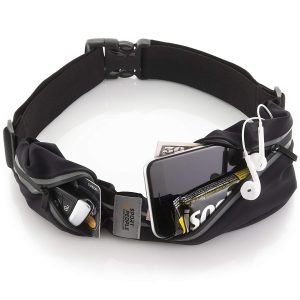 Features
Saves your phone from scratches:
It comes with two pockets, one of the pocket (larger one) helps to store phone, while the other can store other items. This allows you to handle your phone without having other items accidentally scratching the surface.
Waterproof:
It is constructed with high-quality waterproof material that has a special-shaped zipper. This helps to keep items dry and safe regardless of weather conditions.
Reflective strip:
It comes with three reflective strip that helps to keep users safe and seen in the dark.
No bounce:
The quality of the material and the technology applies helps to keep the reflective running gear in place, preventing it from moving, jiggling, bouncing or chaffing while users run.
Earphone holes:
It features a special earphone hole which allows users to easily listen to their favorite music while enjoying a pleasant and relaxed workout experience.
Fits all size:
There is no need searching for the right size. The Sport2People Running belt comes with a soft elastic waist which makes it fitting for all shapes and size. It allows an adjustable length between 27.5″ to 40.5″. This makes it suitable for all family members, from kids to grandparents.
Pros
It is waterproof
It is suitable for both men and women
It fits a wide range of waist sizes
It comes with a soft material that won't rub against the skin
Cons
It is only available in black


---
7. Running Belt for adventure lovers from SPIbelt
Not all running clothes come with pockets, even the best running pants or jackets can be disappointing when it comes to storage. In some cases, the pockets are too large to hold things like keys and phones properly. It leaves an extra space which causes an uncomfortable jangling and jostling.
The Spibelt offers an excellent solution for those who wish to run with their phone and other items but can't seem to have right pocket space for it. The belt is worn around the waist and its stretch qualities allow it to fit around whatever object regardless of its shape.
It comes in a variety of colors so you can pick your favorite hue. It fits tightly eliminating bounce and chaffing. Its adjustability allows just about anybody whatever their size to use it.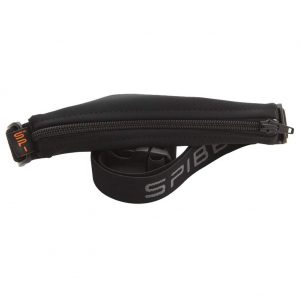 Features
Fits large phones:
It comes with a pocket that is large enough to hold phones of up to 6.5 inches, this includes iPhone 6, Galaxy S5, Galaxy Note 3 and Nexus 6.
Comfortable:
The belt is constructed from stretchable Spandex. This has a soft elastic feature which prevents chaffing, bouncing or riding when users are engaged in a rigorous activity or running.
Sturdy buckle and glides:
The buckles and glides are well constructed allowing them to be fit for even the most active users
Expandable and Adjustable:
The pocket of the belt can expand as wide as 6.5x3x2 inches. This makes it fit for waist size of between 24 through to 47 inches.
Pros
It comes in different colors
It is not expensive
It is lightweight
It doesn't bounce
It is fully adjustable
It is quite durable
It is a great deal when you consider the price
Cons
It is not waterproof
It may be a little difficult to store or retrieve larger phones


---
8. Running Belt from Tune Belt
Tune Belt has for more than 30 years been fine-tuning sport belts and armbands to fit cases and current devices. Their product option cut across board to match individual unique configuration, each having an exceptional fit, performance and comfort. So whether you are running, jogging, or sightseeing with your smartphone, this waistband can offer you what you need.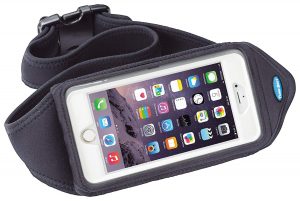 Features
Exceptionally stable and comfortable:
The belt is soft and cushioning making it great for jogging, running, and working out at the gym. It is made of 100% neoprene, allowing it to stretch to hug your waist. It makes it stay put comfortably allowing users to move freely when exercising without slipping or bouncing.
Protects from moisture:
It is made with a fabric that wicks away moisture and no opening directly on the skin, it features a water-resistant design which protects users from perspiration and the elements.
Easily accessible and protective:
It has a flap with a strong velcro closure which gives easy access to your phone allowing it to conveniently slide in from the front side. The water-resistant neoprene material protects phones and other important items from perspiration and other elements.
Convenient extra pocket:
It has a convenient extra pocket located on the back of the belt. This helps to hold ID, cash, and credit card.
Pros
It is quite comfortable to wear
It stays put during runs
It is easy to adjust and to snap the buckle together
It comes with a back pocket that is spacious enough for ID card, keys and cash when necessary
The phone fits quite comfortably inside the sleeve and never slips out when moving
Cons
It is not so easy to pull the phone out during a run, so a Bluetooth or earbuds may be required.


---
9. Fitt Up Hydration Running Belt
Fitt up running belt is a great belt like by a lot of people as it comes with 2 bottle holders and bottles included with it which makes it a good choice even for long distance runs and other similar activities like hiking, running, cycling etc. below we have shared some important features of this running belt to know before buying.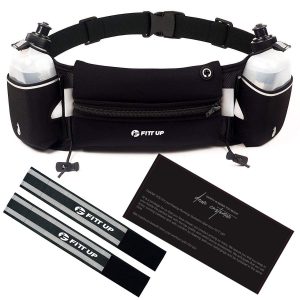 Features
Adjustable fit and large pockets:
fully adjustable running belt which makes it a perfect fit regardless of the waist size. The pocket is big enough to house keys, smartphone, money, inhaler and most other essentials. Some of the phones that can fit include iPhone 7S, 7, Samsung S8, S8 Plus and most other big size smartphones.
Extra visibility:
The belt comes with a reflective armbands which keeps wearers safe while they are on the trail. These reflective trail increases visibility and reduce risk if you are running at night.
Snug and Lightweight:
The belt is made of high-quality, tear-resistant and waterproof lycra fabric which weighs less than 10.3oz. The phone pocket comes with a hole for the earphone cord to let wearers enjoy music. It is a perfect running belt for men and women.
Bottles:
The size and volume of the bottles are a perfect size for runners. You can store 10oz of your hydration beverage for short to medium length runs. They remain in place, easily accessible and don't add to the overall weight of the belt during runs.
Guarantee:
The product comes with a risk-free 60 days back guarantee. Although this factory warranty is only available when you purchase from authorized sellers.
Pros
It is an effective solution to hydration problems during short to medium runs.
It can carry two water bottles, which means you have enough water for a while and makes it best running belts with water bottles
The bottles are ergonomic and stay in place during runs
It comes with pocket where you can store smartphone, MP3 player and even your wallet.


---
10. URPOWER Running Belt with 2 bottles
URPOWER is an effective product for runners who wish to stay hydrated while they are on the run. The pack comes with two water bottles allowing runners to take water with them on their run. It comes with a front zippered pocket which has plenty of room and will accommodate even the biggest of smartphones.
The pack is made from neoprene; a lightweight waterproof material. It has a high-quality and it is tear-resistant, this makes it great for any runner who wishes to use it for a very long time. It is affordable in its own right.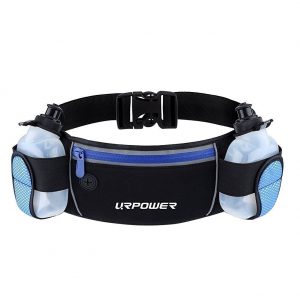 Features
Neoprene material:
The pack is made of tear-resistant and water-proof material and weighs less than 4.5oz.
Zipper pocket:
The zipper pocket holds keys, smartphones, inhaler, and other essentials. It is compatible with products such as iPhone 5, 5S, 6, Samsung S5, S3, and a lot of other smartphones.
Dual-function:
It can be used as a waist bag  and as a shoulder bag
Adjustable strap:
It has a fully adjustable strap to accommodate your waist and can even be used as a shoulder bag.
Water pockets:
It features two separate pockets which holds water, allowing you to bring enough for any outdoor activity.
Pros
It is waterproof
It can fit most sizes of cell phones
It has a hole in the pocket for headphones
It features an adjustable strap making it fit for a wide range of sizes
It comes with reflectors which makes it suitable for wearing in the dark
Cons
Some users have complained that it is a little bit bulky


---
11. AirFlow Micro stretch Belt from Amphipod
Compared to most other waist belts that come with thick widths. the Amphipod Airflow Microstretch Belt has a slim design with a single zippered pouch for storage. Although it may be thinner than most other belts, this doesn't mean it won't stay put or offer decent storage space.
The pouch has the super stretchy ability, this allows it to expand up to four times its original size. This affords you sufficient room to keep your keys, debit and credit cards, phone etc before you go out for a run. The belt is pretty light, reducing the weight you will be carrying around, plus it features an adjustable design.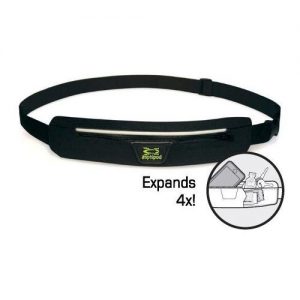 Features
Use:
The Amphipod Airflow Microstretch Belt is extremely versatile, having the ability to store everything you need for a race day, from phone to hotel room key. It can expand up to four times its original size allowing it to house as many supplies as possible. The pouch features two interior compartments which helps you to organize your stuff a bit.
Breathability:
The Amphipod Airflow Microstretch Belt has a mesh design which ensures users don't experience chaffing or extra heat when they choose to wear it. The pouch is lightweight and is made using a thin material which ensures the material can breathe when it is placed against the skin. The nature of the material also helps to keep the weight of the pouch down.
Comfort:
The belt can be unbuckled for easy removal and features an adjustable fit. The overall feel of the belt on the body is influenced by its mesh design. Heat build-up is kept at a minimum by virtue of extra ventilation, this means that even on a hot day you will feel comfortable. Its small size means that you probably may not notice that you are wearing anything. The belt portion is made of soft material which won't scratch or irritate your skin. It won't also dig into your waist or hips to cause discomfort.
Size:
The fact that the Amphipod Airflow Microstretch Belt can stretch significantly allows it to house plenty of supplies. This makes it an excellent race day companion as it can comfortably hold your phone and fuel. The belt adjustability means that there won't be a need searching for the right size. It can be taken off and put on with ease too, as it comes with a buckle.
Durability and style:
The belt is made of quality material, this ensures that it doesn't lose its elasticity so quickly. It is built well and has a super sleek and slim look. It comes in multiple colors including pink, neon and yellow.
Pros
It ventilates well
It has a roomy pouch
It comes with a zipper for extra security
It features a lightweight slim design
It is very adjustable
Cons
It bounces somewhat when filled too much
It is not waterproof


---
Buying guide for running belts
Below are some tips that can guide you on what you should look for when choosing a running belt;
Comfort:
This should be one of your first consideration when you are looking at buying a running belt. Your running belt should be so comfortable that you can run normally as if you were not wearing it at all. It should come with a pocket for valuables such as keys, ID, cell phone, wallet, and money. It should not be discomforting during your run. It should stay secure such that you will not feel your items bouncing around as you run.
Storage:
This is equally a very important factor worthy of consideration. The bottle holder should be strong and sturdy enough to keep bottles in place. Before you make your choice, ensure to make a list of the things you would want to take will like to take with you while running. This will help you figure out if the belt you are about to choose will be adequate for you or you will need to go for one that has more space.
Material:
The materials used for these belts come in different variety often depending on the brand. But generally, most of these belts are made using synthetic materials. Regardless of this, it is still important to check the material before purchase. There are materials that respond better to sweat absorption and heat regulation, this allows your body to stay dry. You can also choose one that is made of knitted elastic or mesh which is good for ventilation without making it bulky.
Quality:
If you are in search of a waist pack that will last and offers a premium experience, then it is important you steer clear of the cheap ones and choose the high-quality belts. Opt for belts that are washable, moisture-wicking, and quick drying.
Color:
This is one factor that is often overlooked. If you are someone who loves running at night then it is expected that you opt for a belt that is reflective. Such belts offer extra protection and keep your mind at ease during late night runs or jogs.
Benefits of using a running belt
They provide secure pocket space:
Typically, most running attire do not come with pocket or any kind of storage space. This is where running belt comes into the picture. Running belts provide secure pocket space for storing of phone and other items while you run or jog.
They are inexpensive:
Running belts are mostly very affordable. The price will be dependent on the type, quality and features that it has. But generally, you can get one for as low as $5. A really nice high-quality belt will go for between $30-$50.
They are comfortable:
Running belts can help to make your run more comfortable. It can be quite discomforting going for a race or jog and having to hold your keys and phone in your hand or in an oversized short pocket. This is aside the fact that you may accidentally drop it or perspiration may enter your phone.
They can carry water on long runs:
Holding a water bottle on long runs is not only uncomfortable but it will increase the chance of a disaster. The solution is stashing the bottle in a running belt. This will also eliminate the need to have to stop at water stops for a refill.
They can carry first aid equipment:
Accidents can happen anywhere, including during runs or jogs. This is particularly most likely when dedicated trainers train for events. It is good that you are prepared. A running belt can help you to house some of this first aids equipment.
Running belt FAQs
Does this belt bounce while running?
The belt that you must choose must have a no-bounce technology. It should be elastic and fully adjustable. This helps it not to ride up while running.
What material is the belt made of and is it waterproof?
One of the best material that can be used for the making of the belt is high-quality waterproof lycra. Neoprene is another material that is to be considered when buying a running belt. They help to keep sweat away from the valuables. They are sweat-proof, splash-proof and rain-proof.
Will it fit large smartphones like iPhone 6 or 7 Plus?
Aside from iPhone 6 or 7, ensure that the belt you opt for is a perfect fit for your phone. The trend currently is that people are buying larger phones. Also, make sure it has an earphone port through which you can plug your headphone and listen to your favorite music as you run.
I travel a lot, can a running belt be of help to me?
Aside from running, these belts can be useful for travelers who wish to travel carrying their phone wallet, money and keys. The belt can fit snugly and it is comfortable. It can easily be concealed under the shirt for prevention against theft.
Are running belts for both men and women?
Of course, both sexes can use and enjoy these belt.
Do you offer a guarantee if the belt ever falls apart?
Ensure that the belt comes with a guarantee so that if ever the running belt tears or rips apart or doesn't perform well, you will either get a replacement or a refund.
For you to select the best running belt for yourself, you must consider your individual running needs. There are a variety of running belts available, each primed for different running types. Are you in needs of something to carry your water supply? Or something just to toss your keys in? Do you run mostly at night? From the list above there are running belts options for everything.
running belt is great for everyone who loves to run,a recent study shows that about 42% of americans like to run daily to keep their body fit with larger % of this figure attributed to women between age of 25 to 34, isnt that great.
Checkout: best quality gym bags
There are the durable types for the off-road runners, and the ones that carry a water bottle for a distance runner, and yet the stylish ones for casual runs. You are to keep in mind what kind of runner you are when deciding on what running belt to purchase.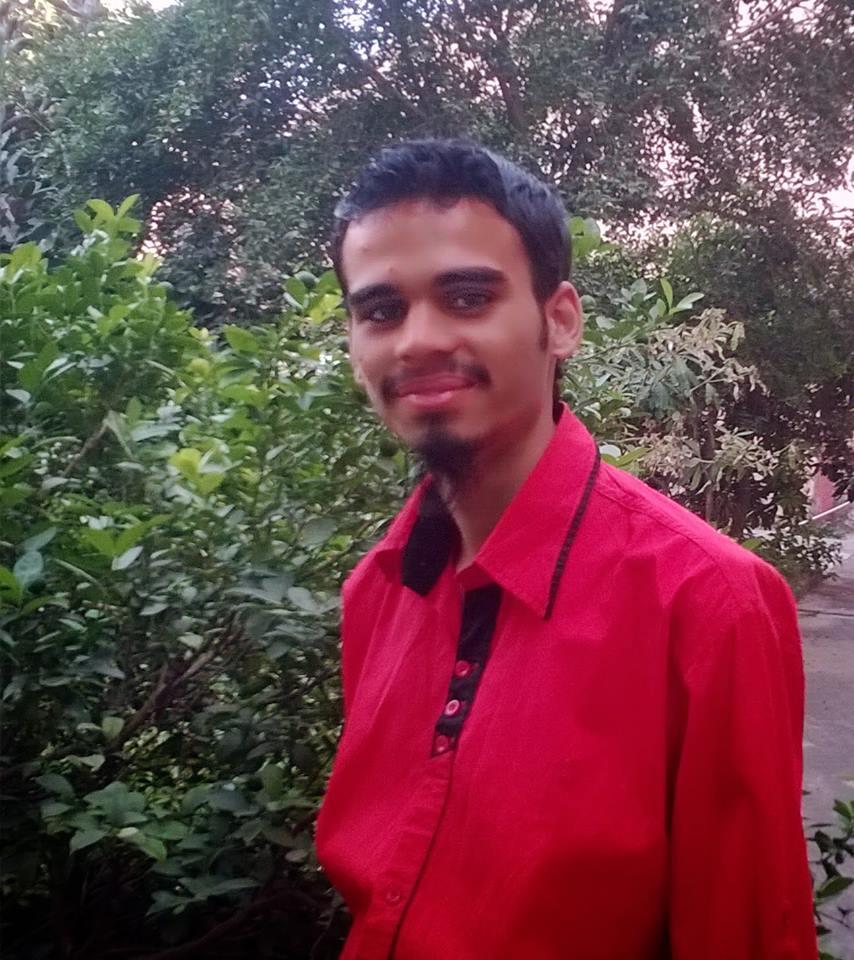 My name is Tushar, I am a fitness expert and product review enthusiast for over a decade who provides best and unbiased reviews for products available in the market on this website after doing hours of research on various topics and products including health and fitness. To read more about Tushar and this website mission head over to our About us page.