Smart thermostats give you the ability to control the temperature of your home right from phone, tablet or any other device. These thermostats connect the heating system of your home to the internet, allowing you to change the temperature or turn it off or on right from your internet connected device.
Although these thermostats don't come cheap, they are an excellent way to save energy and money.
Below is a run through of ten of the best smart thermostats for a quick overview with discounted links but for detailed reviews you will have to scroll down further:
Best smart thermostat 2022 Reviews
Nest T3017US Smart Learning Thermostat
The Nest T3017US smart Learning Thermostat features a thinner, sleeker design, but with display which is bigger and sharper. The thermostat is surprisingly very beautiful and has a Farsight feature which makes it light up when users come close.
The thermostat is designed to help save energy and on average it saves between 10-12 percent on heating bills and up to 15 percent on cooling bills. This translate to mean that it is capable of paying for itself in less than two years.
It has the record of being the first thermostat to be Energy Star certified. With this thermostat you can easily take things to the next level by taking advantage of the thermostat's automatic programming and remote control which is achieved by linking the thermostat to your smartphone or any other device. So if the temperature of your home gets dangerously cold or hot, you will instant notification on your mobile device.
Features
Energy Star:
This is one of the most notable feature of this thermostat. It is the very first to be ENERGY STAR certified.
Farsight:
This is a novel feature peculiar to Nest Thermostat. The Farsight feature helps the thermostat to light up such that it can show temperature, weather or time to users even if they are across the room. Users can make their choice between digital or analog clock face.
Unique styles:
The Nest Thermostat comes in four amazing colors for users to choose from; Stainless Steel, Copper, White and Black. The Copper can be used to add warmness to a room, while the Stainless steel is apt for a classic, versatile feel. If your walls are dark and you have a stylish decor, then the dark thermostat will blend perfectly. The white thermostat appears wonderful in simple, modern homes.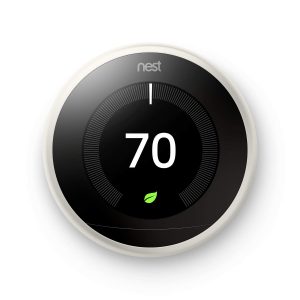 Auto schedule:
As time goes on the Nest Theromostat is capable of learning more about you and the temperature you like, hence there is no more confusing programming.
Remote control:
You can easily change the temperature from your phone, laptop, or tablet by connecting it to Wi-Fi.
Saves energy:
Nest helps to save energy by employing the use of sensors, algorithm and even the location of your home.
Safety alert:
Perhaps you forgot to turn something off and your home dangerously gets hot or cold, you don't need to worry, Nest sends you an alert on your phone or tablet.
Work together:
Nest develops a couple of products which works together to keep your home safe. A good example of such teamwork is between Nest Thermostat and Nest Protect. If there is an unusual amount of carbon monoxide in the house Nest Protect can tell Nest Thermostat to turn off the furnace as this is a key source of carbon monoxide leaks.
Early-on:
Nest learning ability does not just involve you but also extends to your home. The thermostat is capable of learning how your home warms up and monitors the weather to give you the temperature you want when you want it.
Pros
The Nest thermostat is capable of tracking your temperature preferences and schedule and programming itself appropriately
You can control your home temperature through your smartphone even if you are miles away
Cons
The product comes with a two year warranty which is typically shorter than the industry average
---
Ecobee Alexa enabled Smart Thermostat
Although the Nest Learning Thermostat is obviously what comes to most shoppers mind when they think about smart thermostat but there is a lineup of lesser known competitors that can equally deliver on their promise. One of such smart thermostat is the Ecobee smart thermostat.
The Ecobee4 comes with interesting features, this includes built-in speaker and mic which embeds Google Assistant or Amazon Alexa into your HVAC controller. The built-in Alexa voice service allows users to listen to voice commands as well as respond to them.
The device features room sensors which helps users manage hot and cold spots in the home thereby delivering comfort in the house. The thermostat can automatically detect occupancy, hence capable of enabling the right mode for energy savings when there is no one at home.
Features
Save money:
By using this device you can save up to 23% yearly on heating or cooling cost. That is not all, Ecobee is also able to pay for itself in less than 2 years.
Room sensors:
They help to balance the temperature in the whole home. The sensors are able to measure both occupancy and temperature thereby able to switch to the right mode, this could be for comfort when you are home or for energy savings when no one is home.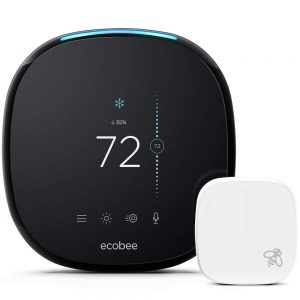 Performance:
There are different ways by which you can regulate your home's heating and cooling, this could be through the Ecobee4 schedules or geofencing. Either way, the thermostat performs extremely well at turning systems on or off without much qualms, making it able to save energy and money when configured and used properly.
Also, being an Alexa-connected device, it is able to hear and respond accurately, hardly missing a request despite the fact the mic and speakers are nicely hidden between the thermostat and the wall.
Easy to install:
The thermostat is pretty easy to install, it takes only about 30 minutes, this is thanks to its easy to follow installation guide plus an in-app step-by-step walkthrough. Everything that is needed comes in the package including a Power Extended Kit.
Remote control:
The thermostat can easily be controlled and adjusted from anywhere using your Android or iOS device. The mobile app for Ecobee is available on Google Play and App Store.
Built-in Alexa:
The built-in Alexa allow users to control the thermostat using their voice. You can ask to play music, set a timer, adjust temperature, hear the news and much more.
Pros
The thermostat is compatible with most HVAC systems
It features a built-in Amazon Alexa voice assistant
It has a bright and responsive display
It is quite easy to use
It has plenty of smart integrations
Cons
Some reviewers consider it expensive, particularly those that don't care for the Echo/Alexa integration
The company could have made the speaker better
---
Honeywell TH9320WF5003 Color Thermostat
The Honeywell Wi-Fi smart thermostat is a reliable connected device used for monitoring and controlling the heating and cooling system in your home. The thermostat can be run either via the Honeywell Total Connect Comfort app or from the touchscreen of your device when it is connected to your home's Wi-Fi network. The apps for the thermostat is available for smartphone and tablet.
On either of the platforms, you are able to view and change your current heating and cooling system settings. You are also able to check the temperatures both on the inside and outside of your house. The thermostat is quite easy to use, schedules can be set and fan can be turned on and off.
Features
Easy to use:
One of the most striking features of the Honeywell Wi-Fi Smart thermostat is its ease of use. After you set it up there is little or no need for further user interactions. The thermostat is capable of running itself. The only time when you may need to make adjustments is when you are operating outside your regular routine, e.g. when you are at home on days when you typically are not home or vice versa. In cases such as this, the device will send you an email notification.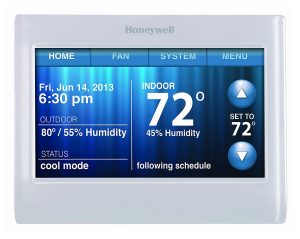 Installation and programming:
The thermostat is very easy and straightforward to install and program. Immediately after powering it up, the device takes users through a couple of intuitive steps which will enable them program the device settings without the need to refer to any instruction manual.
Programming and any other changes that you wish to make can be performed through the full-function touchscreen of a computer, tablet, or smartphone that uses the thermostat free Apple or Android app.
Energy saving:
Just like most other programmable thermostats, the Honeywell Wi-Fi can help save energy. Using this thermostat you can be able to save between 20%-25% on your home heating and cooling costs.
The device comes with a custom display with on-screen comfort information
Pros
It features an easy over-ride function
It comes with a full-function color touchscreen, this allows users to make choices from 12 color themes
It is pretty easy to setup, this can be done through a computer, smartphone or a tablet.
The device is able to monitor the weather of the local community and adapt its heating or cooling based on this
For an easy installation, the device features push-fit cable connectors
It is suitable for business and home use
It comes with a five-year limited warranty
It is compatible with many other connected devices
Cons
For areas that have micro-climates, the weather service for the thermostat may not function correctly
It needs a 'C' wire
The alert can only go to one person
The device is incompatible with Honeywell's Lyric app
---
Emerson Sensi Touch Thermostat with WIFI
If you are in need of a Wi-Fi smart thermostat which puts you directly in charge by putting control at your fingertips then you may want to consider the Sensi Touch Wi-Fi smart thermostat. Whether you are on the go or sitting right there on your couch, it gives you the capacity to determine how comfortable you wish to be.
You can easily access, change or program the temperatures in your home just by a simple tap on the touchscreen display or on the free mobile app.
The thermostat is pretty easy to install as the mobile app comes with a guide which works customers through each step of the installation process. Most people are able to install Sensi in 30 minutes or less. After installation you can decide to allow your device to use your location to automatically adjust temperature settings with geofencing or you can take the initiative and employ the intuitive controls to develop a more custom schedule.
To deliver a complete smart home experience, the Sensi thermostat seamlessly integrates with Alexa, Google Assistant, Apple Homekit, and Wink home automation platform.
Features:
Geofencing:
The Sensi Touch Wi-Fi thermostat comes with a geofencing feature which allows it to automatically switch into energy-saving away mode when your smartphone communicates with it that you have left a three-mile perimeter. The target temperature will be restored whenever you come back.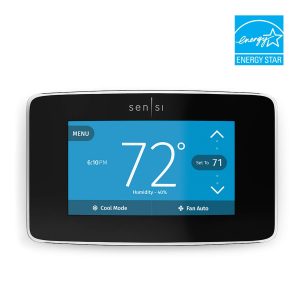 Easy installation:
It is fairly easy to set up the thermostat, particularly when you want one heating or cooling, or automatic schedule for Monday to Friday and a different setting for the weekend.
After the physical installation of the device, the remaining setup is performed through the Sensi app. The mobile app provides in-depth instructions for nervous DIYers who may be doing it for the first time.
Extensive compatibility:
The device is highly compatible and able to work with most HVAC equipment in the home
Energy saving features:
Aside from geofencing, the device comes with certain other energy saving features such as flexible scheduling and remote access. This allows you to save money without compromising your comfort.
Touchscreen color display:
It comes with easy-to-read temperatures, back glow and intuitive menus.
Smart alerts:
The smart alert feature allows the device to detect extreme temperatures and humidity levels and communicate it back to you
Automatic upgrades:
The Sensi thermostat software is automatically kept up-to-date with new features.
Pros
It has a stylish design with a bright touchscreen
The programming of the device is pretty flexible
It effectively uses the geofencing feature
Cons
The device is a little more expensive as compared to direct competition
It is a run-of-the mill app
It doesn't come with algorithm that is able to learn occupancy patterns
---
Honeywell RTH9585WF1004/W Programmable Thermostat
The Honeywell's Second Generation RTH9585WF1004 Wi-FI thermostat is designed to meet your individual comfort. It aims at satisfying your comfort needs while saving as much energy as possible. It comes with a Smart Response Learning feature which takes away guess work from programming by learning users preferred heating and cooling cycle times. This helps to ensure that the temperature is always right when it is required.
It comes with a customizable color touchscreen display which is likely to encourage users to create their own unique look which would match with their home's decor. The device mobile app allows for easy and immediate access through smart phones, computer or tablets.
This allows users to have complete control regardless of the setting which would invariably give peace of mind. And in instances where the air filters and humidifier pads require changing, the device features intelligent alerts which adds an extra layer of versatility by informing homeowners of what needs to be done.
Features
Wi-Fi enabled:
This allows users to control the device from virtually anywhere. It also works with Amazon Alexa, which gives it a voice control capability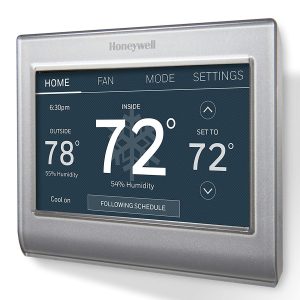 Temperature control:
It features a Smart response technology which allows for precise temperature control
Programming options:
The device features different programming options depending on your home or small business.
Intelligent alerts:
It automatically notifies occupants if there is a need for an air filter change, humidifier pad replacement, or in cases of unusually high or low temperature.
Customizable touchscreen:
The screen is customizable and comes in full color. The numbers and text are east to read as well as the local weather and indoor and outdoor humidity levels.
Quick schedule changes:
It allows for easy updating of settings for times when you wish to go on vacation or temporary holds. You can easily restore your everyday settings with a few clicks of the button.
Pros
You can use Wi-Fi to connect it to your Apple or Android device and app
It comes with a customizable background color and color display
It has a Smart Response feature which heats or cools your home ahead of time. This way your home is at the temperature that you want by the time you get home rather than having to start the cycle when you arrive
It has a display that shows outdoor and indoor temperature and humidity
It connects and works well with Google Home, Apple Homekit, Amazon Alexa, Wink and much more.
Cons
You will need to install a C wire if your current HVAC system doesn't come with one
In a lot of instances, a good number of these type of thermostat tend to develop issues within the first year of usage.
---
The Simple Thermostat
Just as the name denotes, theSimple thermostat is simple but offers some of the most powerful features. Just like most thermostat it requires a C-Wire for power and comes with a C-Wire for easy installation at homes and business places that do not have one. If you run into issues while installing, you can get help from the company's support site or better still get personalized support by emailing hello@thesimple.com. It is available in both white and black models and allows for daily customization of temperature schedules with 9 different templates. The display is large and easy to read showing both indoor and outdoor temperatures. The mobile app is available on Android and iOS and it is compatible with Safari, Chrome, Edge and Firefox.
Features
Amazon Alexa:
It features Amazon Alexa which saves you the stress of having to walk to your thermostat. All you need to do is tell Alexa to change the temperature or make the room warmer.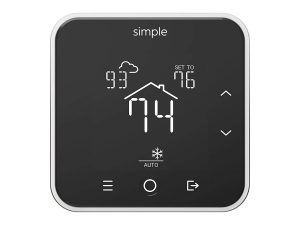 Convenient App Access:
It is easy to adjust and use. You can adjust temperature, change schedules or set it to the Away mode when you are not at home to boost the energy saved.
Learns from you:
The Simple thermostat comes with an intelligent algorithm that is able to learn your home characteristics, schedule and behavior. This way, it will be able to keep you comfortable but at the same time save energy. A leaf indicator is shown when the thermostat is saving energy.
Energy Star certified
It comes with C-Wire kit
Pros
It comes with well-detailed installation instruction
It is quite simple to use
Cons
Some reviewers complain that it takes time for the heat or air to turn on
---
Orbit 83521 Clear Programmable Thermostat
If you are in need of a thermostat that combines the features of a fully-programmable energy saving device with a contemporary design that appears excellently in any home, then the Orbit Clear Comfort 83521 Pro should be among your top choices. It comes with a seven day programmability feature which saves you the hustle of manual adjustment. Aside from that, it also allows for customization of heating and cooling with up to four periods for each day.
The device is available in beautiful and contemporary design which complements any decor. The large display and warm backlight allows for easy viewing even when you are a few meters away from the machine. It features an early start mode which ensures that your home is sufficiently warmed and comfortable when you need it to be. It works excellently with gas, oil, or electric furnace.
Features
Copy and paste:
One of the most striking features of this orbit thermostat is how easy it is to get it programmed. It uses a copy paste feature which helps to streamline programming and removes the need to have to input redundant schedule times several times within a week.
Easy to use:
It comes with easy to use and simple to operate switches. It features simple fingertip temperature control and quick programming buttons.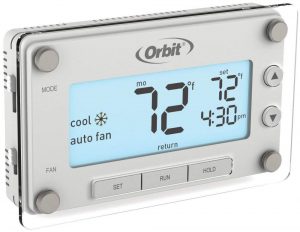 Save energy and money:
The thermostat is preprogrammed with Energy Star recommended settings, this allows for optimal energy saving. This way you can effortlessly save energy and money without sacrificing your comfort.
Design:
It comes with beautiful and contemporary design which makes it perfect regardless the type of decor you are using.
Early mode:
It features an early mode feature which allows the house to be at the desired temperature at the programmed time. This would allow your home to be comfortable whenever you need it.
7 Day programmability:
The device allows you to program each day independently with up to 4 programming periods.
Compatibility:
The thermostat is compatible and works well with gas, oil or electric furnaces. It is also compatible with central air conditioners and 2 wire hot water systems.
Pros
It works well with 2-hot water systems and millivolt systems
It equally works well with heat pumps which do not require auxiliary or backup heat
With the Copy and Paste feature, you can easily set up a schedule for a whole week without wasting time and energy
Cons
The batteries do not come in the package
---
Hive Smart Home Thermostat
The Hive is more than just your average thermostat, it is a smart home platform on its own. Hive comes with its entire hub and this is able to drive the entire platform. The hub is responsible for connecting to your router and then communicates with all other Hive devices. This allows remote access from your smart home app.
The Hive Hub encompass the Hive thermostat , camera, bulbs, door sensors and plugs. All of these can be controlled through the Hive smartphone app which can be downloaded to Android and iOS device. This will allow you to easily set temperatures, rules, schedules and alerts.
Features:
Hive App:
The Hive manufacturers know you have plenty things to do, hence they create the Hive app which allows you to look after your home even when you far away. This app basically puts peace of mind in your hands, allowing you to do the things you like.
Smart scheduling:
The Smart scheduling feature allows you to save energy by setting customizable cooling and heating schedules. This way, your home is only heated or cooled when you need it to be.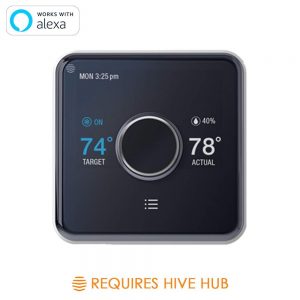 Quick relief:
The quick relief feature is apt when you need to be cozy and comfortable in a matter of minutes, all from the comfort of your bed.
Hive actions:
Hive actions allows you to create the best experience that is apt and perfect for you. The Hive Action allows your Hive devices to work together on three conditions, "When, While and Then".
Comfort made easy:
The Hive Active thermostat allows you to cool or heat your home while conserving energy, all at the same time. It comes with a beautiful design and it is quite easy to install. It also allows you to control your temperature from anywhere with your smartphone.
Pros
It is simple and easy to setup
It is expandable through other hive-branded products
It is supported by Amazon Alexa and Google Assistant
Cons
There are some basic features which can be found in competing thermostat which is not obtainable in this product
---
Kono KN-S-AMZ-004 Smart Thermostat
With the Kono smart thermostat, you have the capacity to personalize your comfort, savings and decor. It comes with a unique decor-snap covers which allows you to change the look of your device from its original Black stainless finish to your particular style. The thermostat is follow-up to the Lux Geo smart thermostat.
It brings energy savings and comfort control to your fingertips. It comes with advanced features for your cooling and heating system with effortless Smart Home Wi-Fi connectivity. One of the most striking feature of this device is its interchangeable faceplates which you can match whatever decor you may be using.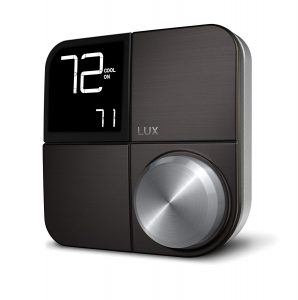 Features
It has a universal compatibility with forced air, oil, gas and electric furnaces
The app caters to multiple users, location and zones
It works excellently well with voice assistants such as Amazon Alexa and Apple Homekit
It can be controlled from anywhere using the Lux app which runs on Android and iOS devices
The Home and Aware geofencing feature allows for smart and automatic comfort and energy savings
It is easy to set-up and use either from within the app or the unit
It gives temperature alerts which is excellent when you have pets or elderly people at home alone
It is ENERGY STAR certified
Pros
It comes with interchangeable faceplates
It features a dial interface which makes it easy to change the current temperature setting
It is relatively easy to install and configure
Cons
It's a little short on advanced features
It can be a little difficult to create complex heating/cooling schedules
Users cannot access as much information on the LCD display
---
Programmable Smart Thermostat by suntouch
While most thermostats look like forgettable appliance which is not worthy to gazed upon, the smart thermostat built by suntouch is very much different. The thermostat has an attractive and unique design which is different from most other thermostat. It features a 5.9-inch, translucent OLED touchscreen which disappears when the device is idle. The touchscreen displays more information about your home climate than what is obtainable with Nest or Ecobee.
The thermostat is also one of first connected devices to have a built-in Microsoft Cortana voice assistant. It comes with Amazon Alexa feature which allows you to issue command at the device even from across the room. You can ask it to adjust the temperature, control other smart home gadgets or request for snippets of information like news or weather.
Features
Monitor air quality:
The thermostat is able to monitor the air quality both indoor and outdoor and give you the report. This way you can manage properly and be conscious of the type of air you breathe
Smart home:
The GLAS thermostat works excellently with Amazon Alexa and Google Assistant, plus it comes with a built-in Microsoft Cortana
Save energy:
It comes with an intelligent algorithm that is able to monitor your schedule and accurately maintain a comfortable space as well as save you energy
Easy installation:
It is quite easy to install GLAS, it is something you can get done on your own. All that you need to do is to follow the simple installation instructions. But if you are not in the mood for any DIY project, you can visit the manufacturer website to find a sun touch installer nearest to you.
Compatibility:
The thermostat works most 24-volt heating and cooling systems, this includes electric, gas, radiant and forced air. To be sure your system is compatible, visit the sun touch website. its one of the best smart thermostat for radiant heat
Delightful interaction:
With the suntouch app you can easily control the temperature in your home as well as view real-time energy reports right from your mobile devices (phone or tablet), with each of them having the same intuitive interface that is shared across all other platforms.
Pros
It has stunning looks
It comes with large and easy to read display
It supports Cortana, Google Assistant and Alexa
It has a measurement for indoor air quality
Cons
It is pretty expensive
There is no remote sensor support
The app is somewhat slow and has some frustrating usability issues
---
What to look for when buying smart thermostat
Ease of installation:
One of the factors that should be considered when buying a thermostat is its ease of installation. Regardless of your level of handiness a good thermostat shouldn't be difficult to install. It is expected that the manufacturer provide comprehensive yet easy to understand instructions which is accompanied with plenty of illustrations or photographs that will guide you through the process.
It is expected that the thermostat itself clearly indicate where each wire go. Most times, companies provides labels which users can attach to wires coming out of the wall as they disconnect and remove their old thermostat. The wire most times are color coded, but generally, it is usually a good idea to take photograph of the old thermostat for the sake of reference before you take it down.
Geofencing:
This feature is highly important for any thermostat as it helps to save energy as well as help to keep your home comfortable in advance of your arrival. The thermostat's app and the smartphone GPS chip is employed to establish a perimeter around your home.
The thermostat assumes that if you leave your home or you are out of this perimeter you would no longer need to heat or cool your home or at least you would want the temperature adjusted somewhat so it won't waste energy. Also, when you cross the perimeter on your way home the HVAC system kicks into action such that the house is comfortable enough when you walk in.
Remote access:
The remote access feature allows you to control your thermostat from wherever you are, such that you can monitor and adjust your home temperature wherever you have a connection to the internet.
System complexity:
It is important that your thermostat support multi-stage heating, ventilation and air-conditioning (HVAC) systems. If your home is divided into zones which are independently heated or cooled, then you would need one thermostat for each zone.
Sensors:
Geofencing is excellent for determining if someone is at home and the home needs to be heated or cooled. The downside to this is that occupants must have smartphones. A good alternative to this are Motion and proximity sensors. They work without smartphones and can help determine if someone is within the house. Aside from motion and proximity sensors thermostats can equally tap into door and window sensors.
User interface:
The user interface of latest thermostat are more sophisticated than just numbers on a dial. But the fact is that the more sophisticated a device becomes, the harder it is to learn to use. Nothing can be as frustrating as staring at inscrutable hier
oglyphics when all you want is to be cooler or warmer. A smart thermostat should be able to convey important information at a glance without much decoding.
Benefits of buying smart thermostats
Considering the fact that heating and cooling accounts for a considerable portion of energy costs in your home, it is only wise that you invest in a smart thermostat. This gives you better control over the climate and temperature of your home. Having such control can help cut back on your monthly and yearly energy bill. Below are some of the perks of buying smart thermostats;
Easy programming:
One of the key benefits of using a smart thermostat is that it takes away the stress of having to manually program each day. Smart thermostats comes with digital screens and companion apps which makes it easy to set and control cooling and heating in your home.
Keep an eye on your home:
A smart thermostat can be described as a window into your home. You can use the thermostat companion app to verify that the heat in your home is running and even at which temperature. These thermostat are the apt solution for confirming that your home is in perfect setting before you get there.
Adjust temperature on-the-go:
Most smart thermostat employ intelligent algorithm to study occupant movement pattern and schedule, this way the thermostat can predict when you will be home so it can heat or cool the temperature and when you will likely be out so it can reduce its workings hence saving energy.
But on some days we break from out regular pattern; perhaps we wish to stay longer in bed or coming from a long trip. Smart thermostats allow you to control the temperature of your home on-the-go, instructing it to make the room cooler or warmer.
Human error is avoided:
It is not uncommon for people to forget to turn off the air conditioning or heater when they are leaving their homes, but with the smart thermostats errors such as this can be avoided. These thermostats can automatically raise and drop temperature in the home according to your coming and going, thereby making things easier for you and saving you energy.
Email notifications:
Most smart thermostats send email notifications to occupants in the event of a glitch in the pre-set temperature settings. The device can also send a notification when there is a power outage and the AC didn't run as scheduled or if the Wi-Fi network got disconnected unexpectedly.
FAQs when buying Smart Thermostats
Are smart thermostats difficult to install and use?
Just like everything else, smart thermostats are easier to install and maintain compared to several years back of clunky wiring and heavy expandable batteries. Currently, thermostats are streamlined, economical and rechargeable. They are also very easy to use with most of them coming with detailed user installation manual. Some of the most popular brands known for their user-friendly approach to home automation include Nest, Ecobee, and Honeywell.
What should I look out for when buying a smart thermostat?
Although there are many factors to consider when thinking about buying a smart thermostat, but one of the most effective is product reviews. Before you purchase a smart thermostat ensure to read what other people are saying about it. This will give you an idea of what to expect when you buy. Consider buying at big-box electronics stores like Kmart, Walmart or Target. These stores sell a wide range of thermostats plus you will be able to try them out while asking questions.
How do smart products work?
All the smart products in the home are controlled by the "hub". After the setting up of the hub, all smart devices in your home can be added to the network one after the other. This includes your smart thermostat. The thermostat goes to work gathering as much information about you, your home, and your preferences, and them helping you to make your heating and cooling smarter.
Why should I invest in a smart thermostat?
It has been proven that home owners who use smart thermostat pay less when it comes to electrical, heating or cooling cost. The homeowner is abreast of what is going on in the house, even if they are many miles away. These thermostats are eco-friendly and budget-friendly, and they make life generally easier for users.
With smart thermostats you will be able to control the temperature of each room in your house, all from your phone and without getting up from your couch.
Do I need to dispose of my manual thermostat?
You don't need to, as long as you can pass through the stress of having to reset your heating and cooling preferences frequently. One of the major challenges of manual thermostat is the need to rely in the user to adjust temperature. The implication of this is that if the temperature rises when you are not home, the heat won't shut off.
Conclusion
Although these thermostats don't come cheap they offer tremendous benefits that outweighs their cost. They may be expensive at first, but in the long run, you will save more than you had spent buying it. These thermostats come with features that make them a preferred choice to manual thermostats.
Some of the most notable of these features include easy installation, ease of control, advance heating and cooling, geofencing and lots more.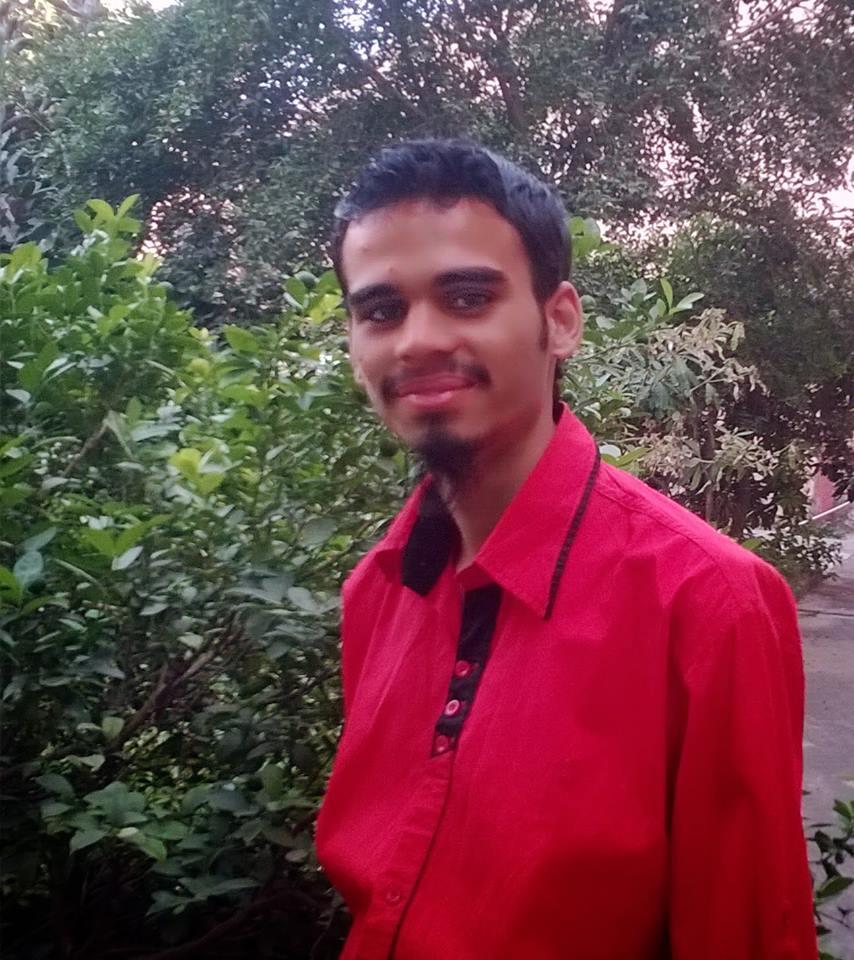 My name is Tushar, I am a fitness expert and product review enthusiast for over a decade who provides best and unbiased reviews for products available in the market on this website after doing hours of research on various topics and products including health and fitness. To read more about Tushar and this website mission head over to our About us page.