One of the first pieces of gear that you need to start hiking is a backpack. Considering the fact that you will be wearing it for long hours at a time it is important you pick the right one.
The best backpacks for hiking don't come cheap but it is worth it, in the long run, it is a worthy investment. If you have challenges buying expensive gears then you should look out for seasonal deals on gear.
Here comes the list of 10 popular and top rated running backpacks to buy in 2020 from below links with discount, for their detailed running backpacks reviews before buying scroll down further.
Below is a review of ten running and hiking backpacks that you can consider for your next hike or traveling trip
When it comes to distance event, comfort and weight saving are two very important parameters. This is why the Nathan Intensity Women's Race was created to make things easier. This female-friendly hydration vest has a woman-specific design and has a breathable and light perforated back and pockets that was created to provide stability, comfort, hydration and ideal storage. The vest also helps to reduce wasted energy as it comes with a 3-way Propulsion Harness which moves alongside users.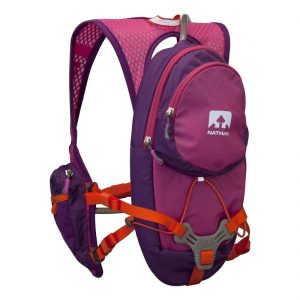 Features
Use:
The Nathan Intensity running vest was built for women who engage in long distance running. The design features a Stash pocket over the left front with reservoirs which helps t store chews, gels and other small items.
These items are stored in a way such that runners can access them with ease without having to stop to take the pack off. It comes with a Three-Way Propulsion Harness which helps to remain comfortable despite considerable hours on the run. It also helps it to be stable with no bounce.
The vest moves with the upper torso and shoulders giving freedom of movement and a comfortable running experience.
Breathability:
The vest is fabricated with a breathable material; 80% nylon and 20% polyester. It comes with a convenient wall mesh shoulder that helps to keep users dry at all times, particularly in the back and shoulder area. This is apt, especially for people who tend to sweat a lot.
Comfort:
For those who think the vests in the market are too heavy, the Nathan Intensity Vest is certainly a good alternative. Weighting at just 14.1 ounces, it is one of the lightest packs on the market. It comes with front pockets that are used to store items while users run. It is located on the right of the strap so users can have easy access to them. It comes with a clip for holding keys and a zippered pouch which is large enough to hold a phone, wallet or ID.
Size:
There is hardly a product on the market that boost of the same or similar quality, durability and features as the Nathan Intensity Vest, and still has a lightweight material. It measures 16.5-inches x 10.5 inches x 0.7 inches. For those searching for a convenient bag for their runs, they will definitely love this one.
Durability:
The fact the Nathan Intensity Vest is made with lightweight material does not mean it won't last long. Actually, several reviewers have stated that they would repeatedly recommend this bag because of its expiration date.
Accessories:
The vest comes with a 2-liter hydration bladder include in the bag
You can also

buy fruit infuser bottles incase the bag doesnt comes with hydration pack to stay hydrated always
Style:
Since the Nathan Intensity Vest was built for women, it fits the female form so perfectly, plus it is available in two different eye-catching color variations. It has a stylish interior and many pockets. The design allows for a hindrance free performance, giving more endurance, comfort and an ideal hydration supply.
Price:
Although the Nathan Intensity Race Vest is not exactly the cheapest option in the market, it is still affordable when compared to vests from other brands.
Pros
Designed for women
It comes with a 2L bladder
It has two zippered rear compartment that helps to organize additional items
It doesn't bounce as you run
It moves in harmony with your shoulder and upper-back movement, this helps to reduce wasted energy
Cons
It is not easy to adjust while running


---
AK Mountain Vest 3.0 for outdoor activities from 

Ultimate Direction
The AK Mountain Vest 3.0 top-quality, versatile, medium high capacity hydration vest is built for both long distance running and every other mountain adventures. This vest has an improved capacity & function as compared to the 1st 2 versions.
This vest comes with a capacity of about 11.5 ltrs which spreads across 14 pockets. Ten of these pockets are situated in easy reach, located either on a waist belt or on the front straps. This allows fast access to a multiple of important items while on the go. It has a well thought out and organized fashion.

Features
Materials and construction:
The AK Mountain Vest was designed to be light while still maintaining more outstanding features than you could imagine. Although they are lightweight, the materials used in its construction offers a high level of durability. The materials shape quite well around the curves of the upper body with its edges softened by a microfiber piping that protects the edges against users body.
It comes with a strap which fit the pack to users body. It has two sternum straps which can be vertically adjusted on a 11 inch rail on either side. The circumference can be easily adjusted with the two straps hidden in the lower side pockets.
Pockets:
It comes with hugely generous pockets which can easily house gloves, packable jackets etc. A good example a is a pocket at the bottom of each side towards the back, this houses the horizontal adjustment straps. The bottom of the straps at the front have similarly sized pocket on each side. The difference between these two pockets is that the left hand pocket is an open-topped stash pocket while the righthand is zippered.
These pockets are apt for easy and fast access t whatever you may need to take or put in them. It has pockets used for housing the 17 ounce soft bottles. Each of these bottles also have a small, square stash in front that can be used for storing gels or glove.
Some of the other features include;
it comes with Sliding rail straps
features water bottle holsters for phone and camera
comes with smartphone carry pocket
comes with trekking pole holders
comes with 2 ice axe loops
Soft and flexible 150g mono mesh
features back pockets with full security
Pros
It has a lightweight and minimalist design
It comes with a mesh upper back which stays cool during hot runs
Users can wear without a shirt without the risk of chafing
It comes with straps on the front which is used for trekking poles
Cons
The positioning of the front water bottle pouches is low and awkward
You can't use the vest with a hydration bladder
It doesn't have a bungee cord or hooks on the back which helps additional storage options.


---
Multipurpose running backpack with hydration from 

Mubasel Gear
Hydration is highly important when it comes to outdoor sports. When going out for outdoor sports it is necessary that you have enough water for supplements plus a hydration pack which does not leak but which has enough space to take your belongings. It is equally important that you keep your drink cool. The Mubasel Gear Insulated Hydration pack is one gear that can help all these come true. The Mubasel Gear Hydration Pack gives you up to 70 oz of liquid, which is sufficient hydration for the whole day.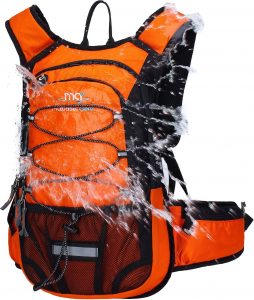 Features
Adjustable Waist Straps:
The waist strap is easily adjustable to better bear the load.
Breathable Mesh Padding:
The backpack comes with a breathable mesh padding in the shoulder straps and backside. This helps to ensure that you won't feel tired r hot while wearing it each day.
Extra Zipper Compartment:
Aside from the bladder compartment, the pack also has an extra large zipper compartment to help store ipad, clothes or camera
Useful Elastic Straps:
The elastic straps allows users to easily stuff your clothes, towel and any other important thing.
Unbeatable durable bladder:
The bladder of the pack is made from FDA approved and BPA free material. You can comfortably drink water from it.
Practical and Fashionable:
This pack is practical and fashionable, making it apt for women, men, girls and boys. This is one of the best gifts you can offer them to keep them hydrated during their runs.
Good volume:
It comes with three storage compartment that will fit your clothes, purses, keys etc. The front mesh pockets even allows hikers to pack more on their hike.
100% leakage proof design:
The bladder has a leakage proof design that never gets loose. You will also not be bothered about drying the bladder. All that is needed is to bottom up and it will dry itself.
Thermal Insulation:
The bladder compartment is properly insulated, allowing your drink to stay cool for as long as five hours.
Pros
The 2L water storage bladder comes with its unique zipper.
The pack comes with three compartments, that can be used for placing clothes, different utilities and electronics
It has a great quality which ensures that it is long lasting.
The mesh padding makes it quite comfortable
Cons
It doesn't fit so much in children


---
Gelindo 18l running Backpack with 

Hydration
When it comes to the Gelindo's Insulated Hydration Pack, you don't have to worry about reaching down for any built-in water holder. Staying hydrated while biking is as simple as drinking out of a straw. While biking for long distance it is very important to stay as hydrated as possible.
Although majority of bikes come with a space reserved for attaching your water bottle holder, a hydration pack makes quenching of thirst even much easier. The Gelindo's Insulated Hydration is one of the most apt pack for this job.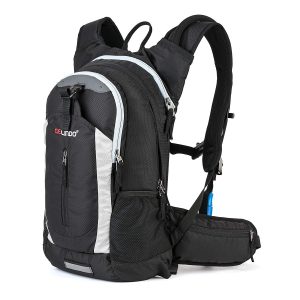 Features
Insulation Compartment with 2.5L Water Bladder:
This pack is spacious enough to hold a 2.5L water bladder as well as other items like clothes and lunchbox. It uses an insulated pocket which isolate the heat generated from your back from warming the water, or any other thing you have stored in the pack. The insulation is so effective that it is capable of keeping liquids cool for as long as four hours. This ensures that cold water is available even during very long rides.
Multi-storage layers:
The pack comes with four large compartments of different sizes capable of storing everything from car keys and smart phone to energy bars and wallet. The bigger compartments can help to store a spare change of clothes and food items without the pack being too heavy or cumbersome.
You can also take things like umbrella or towel out with you when cycling or hiking. The main and secondary compartment together play a very important role to meet your storage need.
Comfortable Carrying System:
In order to allow for airflow and a better fit on users back, the pack features an ergonomic concave air mesh back padding panels together with a breathable but adjustable shoulder strap. This guarantees an comfortable and enjoyable all-day carry, regardless of how much load it carries.
100% Satisfaction Guarantee:
The purchase of a Gelindo pack assures you of an easy and direct access to customer service, plus a 100% satisfaction guarantee.
Comfortable:
Cyclists, just like most of us, care a lot about comfort, and the Gelindo's Insulated Hydration Pack delivers this easily via its adjustable shoulder straps and hip belt. This helps to ensure a perfectly comfortable fit. Also, the ergonomic mesh permits a steady airflow keeping user from overheating. You can be as comfortable as possible as during your ride.
Pros
-The insulated water reservoir pocket helps to keep liquids cool for as long as four hours
-It features a mesh back panel that ensures that airflow is at a maximum
-The interior organization allows it to hold a variety of items without giving it a feeling of clutter
-The straps are easily adjustable which makes it capable of fitting any body type
Cons
It has limited reflective details


---
Osprey Daylite Backpack
Whether you are looking for a backpack that can be used for a trip to the local farmer's market or up a 14,000 foot summit, the Osprey Daylite Pack is your pack of choice. It is designed to attach to several Osprey's travel bag and larger packs, to be used as a independent pod pack when embarking on trips from the base camp. It can be said to be the perfect companion when going on any trip. It is easy to access the main compartment. The side mesh pockets can be used for holding water bottles and other important items while the front pocket with a mesh organizer and key clip helps to secure smaller items at a particular spot.

Features
Shoulder, Hip and Sternum Straps:
The shoulder straps are full adjustable and lightly padded making them more than adequate to carry the light loads that the bag is designed to carry. It also comes with basic hip and sternum straps, this is to help take some of the weight off by aligning the load on your shoulders.
Mesh Padding:
The padding on the shoulder and back may be light, it is more than enough for such a small pack. The pack also comes with a wicking mesh material which helps users stay dry while they are doing sport. Although you will still get a little sweaty, it is much better than having nothing.
Hydration Pack Slot:
A full-length slot used as a hydration pack is located behind the back padding. The hose then arch over the straps and slides into the gray elastic holder which you will see towards the top of the straps.
Main compartment:
The main compartment uses a half-length zipper and it is quite easy to access right from the top. It comes in two sections;
-The big front area which houses most of your gear
-An elastic back slot which can hold things such as a small laptop, tablet, or even your hydration pack.
Top Front Pocket:
The front has a 1/3 length pocket which can hold smaller things. Aside from the organizer mesh pockets, they also have two wide elastic ones including a key holder. The spaces include space for keys, wallet or purse, phone, and any other smaller gear.
Compression Side Straps:
This is another important feature that comes with the pack. This side compression side is handy to have on a pack as it helps to secure the load or doubling it as a way to carry extra things in the pack or keep them in the side pockets, e.g. tripods, big water bottles etc.
Pros
It is lightweight and has a decent amount of space
It is made of strong nylon material with zippers and quality straps
It comes with a hydration slot for water
It has side pockets for bottles or other items
It has large internal compartment with slot tablet or small laptop
It comes in 10 attractive color choices
its great running backpacks for commuting
Cons
It might be too small for a day pack for some people who wish to carry more
The straps are not well padded, this could be because the pack was not built for large loads
Although it has mesh for sweat reduction, it still does not allow significant airflow to stop sweat like is obtainable on some larger models


---
Running backpack for all outdoor activities from 

Mardingtop
If you were planning on taking a lot with you on your hike, then the Mardingtop hiking backpack is certainly for you. Weighting at only 6.1 pounds when empty, this amazing bag can carry weight of more than 60 pounds with little or no strain on the pack. It also comes with a rain cover, which keeps you steady on the trail no matter the weather.
Regardless of your size, the Mardington 65+ can work for you as it can easily be adjusted to the size of users. The pack comes with a torso length adjustment which helps users to manage the weight of the gear. While the sternum strap helps keep the pack from bouncing around, the flexible s-style shoulder will help the pack to settle comfortably. It comes with an excellent lumbar padding which is designed to keep air moving. Also, it has a detachable hip belt which helps to distribute the pack's weight while stabilizing it.
In cases whereby you have extra gear, such as trekking poles, tent poles etc, the pack also features clips and multiple straps to help you manage. It also has a two 5-liter detachable side pockets. For those who plan it fly with this pack it is important to note that when the pack is fully loaded with all its attachments added, it can get quite wide.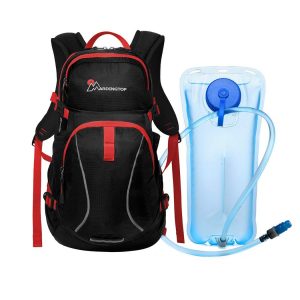 Features
Material:
It is made from water-resistant Polyester fabric which does not allow water to easily pass through. The material is very rugged which makes it capable of withstanding a trip through Mother Nature. The water proof rain cover helps to keep everything inside dry when nature decides to change plans on you.
Comfortable:
The Mardington Hiking backpack is extremely comfortable to carry. It has an ergonomic design that comes with a lot of padding for the back. Also, it has a highly adjustable and well-padded shoulder straps that helps your shoulder and back so it does not get tired while you carry the pack.
Durability:
The inner frame helps to make the bag very durable. It helps to keep the bag in good condition, also it prevents the bag from collapsing on itself.
Important pockets:
The bag comes with a massive main pocket plus several other internal pockets including a bottom zippered pocket and 2 detachable side pockets. You can decide to leave the detachable side pockets at home or take only them along depending on your needs.
Hydration System Compatible:
It comes with an internal hydration bladder compartment. This compartment is big enough for 2liters hydration bladder.
Bearing system:
It features 2 long padded areas located on the back strap which offer cushioned comfort, which also promote circulation of air along your back and shoulders fitting your body perfectly.
Pros
It has tons of space
It features an internal frame
It has a main, bottom zippered and detachable side pockets
It features a very durable design plus a water resistant build
It comes with a waterproof rain cover
It features ergonomically designed straps with lots of padding
It has Molle loops for added carrying capacity
Cons
The main pocket is not divided into sections
The bag can get pretty heavy


---
Oasis 1200 outdoor running 

Backpack 

from 

TETON SPORTS
The Oasis 1200 is a 20-liter day pack from tetan sports that features a 3-liter hydration bladder and some other great features. It has a low profile cut which makes it fit quite comfortably. The adjustable chest, shoulder and waist bands makes the pack to fit quite comfortably. In order to reduce bounce, the shock-absorbing chest strap works efficiently with the rest of the harness. You can effortlessly take it cycling, hiking, backpacking and camping, wherever you may need a bit of gear and sufficient water.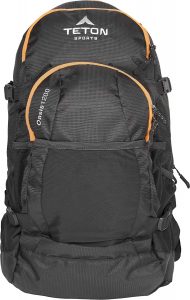 Features
3 Liter Water Bladder:
The pack is hydration compatible as it comes with a 3-liter water bladder. The bladder is FDA-complaint with triple-heat sealed edges. It has a convenient grip handle that allows for easy filling and a very wide mouth.
The water hose port can be passed along either shoulder strap and it is located behind the neck. The main compartment is the bladder sleeve and this is central difference between this pack and the Oasis 1100 where there is a separate and insulated water bladder compartment.
Suspension system:
The hip belt fins come with micro mesh ventilation. Although it is not exactly a padding, it is yet better than what is obtainable in Oasis 1100 pack. The back, sides and behind the shoulder have T-shaped ventilation channel. They also have an added 0.5 inches thick air mesh pads.
Compression Straps:
The pack comes with multiple compression straps which allows users to tighten their pack down to give a great fit that will reduce bounce. This makes the pack excellent for backpacking, cycling, hiking and anytime you may be in need of space for some gear and plenty of water.
Lots of space:
It comes with lots of storage both inside and outside of the pack, this provides sufficient space for all the essential gear that may be needed when you are camping, hiking or camping.
Pros
It is versatile when it comes to usage
It comes with a rain cover
It has a water bladder
It is nicely built and has an excellent design
Cons
It does not have frame of any kind
The harness cannot be adjusted
The water bladder does not really look durable and they have been report of it leaking.


---
Running Hiking Travelling backpack from LOCALLION
Its a good quality multi-purpose backpack which works great for running and other similar activities such as hiking in mountains, traveling with buddies etc. it features 18 L storage space which I think is quite a lot and fulfills all kinds of different travel needs for men, women, and teenagers. so come on let us take a look at some of its features right below.
Features
Versatile:
One of the selling points of this pack is its versatility. It can be used for a wide variety of outdoor activities, from cycling to hiking, from traveling to climbing. It can be trusted as a versatile and reliable companion for your sporting experience, short journeys, daily use and can be a great gift item.
Breathable and comfortable:
The pack comes with a breathable back material which is specially padded with mesh for heat dissipation and maximum comfort. To relieve the stress from your shoulder, the pack comes with an adjustable mesh shoulder straps with abundant sponge padding. The waist straps are built to bring about stress release and to ensure stability while cycling.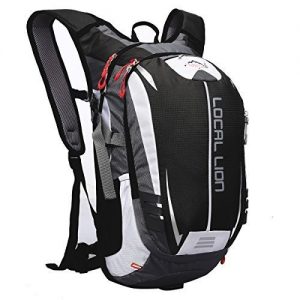 Tremendous storage system:
External storage system, this includes; 1 exterior pocket with capacity for cell phone, umbrella, and any other important item. It has 1 upper zipper pocket which can be used for lighter and any other small items.
Internal storage, this includes; 1 compartment that has an open pocket that you can use for carrying water bladder, 1 main compartment. The shoulder strap has an access for drinking hose as well as headphones.
Security guarantee:
There are reflective strips located on the front and shoulder straps which helps to keep users safe in the night. It also comes with a whistle on the chest strap which can be used in the event of an emergency.
Durable:
The pack is made from high quality tear resistant material. This provides it with extra strength and long-lasting performance despite weighing very little.
Pros
It is great for carrying lot of items
It is small and light but still large enough to hold everything
It features a board on the back that helps breathe and doesn't soak backpack
It comes with lot of pockets
The zippers come with loops which makes them easy to grab
It comes with reflective strips
The water proof material allows it to be easily cleaned
Cons
A few of the straps are very long and it may be necessary to have them knotted up or cut
The top pocket is small


---
Hydration Pack Backpack for running from 

U`Be
The Camelbak backpack is an iconic pack that was launched first in 1996. Since then it has proven to be one of the bestselling products developed by the CamelBak company. It possess a narrow gauge design which makes it light and maneuverable. This design also accounts for its lightweight nature. The pack is excellent for storage as it is big enough to hold 3 liters of water.
It comes with some other great features such as air channels, this helps to keep your back cool as you ride. There are also functional and snazzy compartments which can be used to keep peripherals like keys, mobile phones and mp3 players.
Features
Size:
The size of the CamelBak backpack is just right; it is big enough to hold as much as 3 liters of water and gear for a whole day on the trail running but still narrow enough in width, lightweight and not bulky thats why is called one of the great trail running backpacks for many people.
.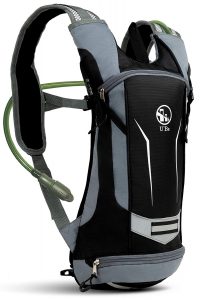 Water reservoir:
The compartment for the water reservoir can open 2/3 of the way with a shelf which will hook the included 3 liter. The hose makes a hole at the top of the pack and can be secured to any of the shoulder strap. Compared to many other bladders, the hose of the CamelBak can easily be removed from the bladder and cleaned. If you are traveling, the reservoir compartment can be used to house an iPad or similar tablet.
Organization:
The main compartment is located in front of the reservoir area and can hold a lightweight layer, first aid kit, winter traction aids etc.
The middle houses a stretch pocket that has straps which adjust how open it is. This makes it excellent for stuffing of gloves, hat or anything you might want to have quick access to. When empty, this stretch pocket cinches flat.
It comes with two outer zippered pockets. The smaller one can fit a sunglass, tissue or even a phone. The larger outer pocket is divided into sections.
Padding, venting and insulation:
The back of the pack is padded with segmented channels which is aimed at promoting airflow and to help keep your back cooler. The pack is well insulated, such that water can stay noticeably cool even on days when the temperature is as high as 85 degrees.
Color:
It comes a variety of stunning colors, some of the most popular include; Orange, Charcoal etc.
Pros
It is a high quality water pack, strong and flexible
It has a detachable draw rube
It has three main sections for storage space
It comes with an adjustable chest strap
Cons
The straps can feel a little flimsy
Some users have complained of the hose coming loose while they ride


---
Hydration Pack Backpack for Running from 

Unigear
The Unigear Hydration pack comes with a compact and sleek design which makes it excellent for cycling, running, walking or hiking. The pack's durability makes it apt for a wide range of outdoor activities. Also, its outer pocket and functional design makes it a comfortable carrier when it comes to daily use. Aside from small camping tools, sunscreen, pocket knives, and other gadgets, the outer pockets make a perfect fit for other items like keys, cell phone, wallets and so much more.
Although it is a low-priced hydration pack, it can be easily customized to make it comfortable and snug. Both the shoulder and chest straps can be easily adjusted. Thereby making the pack useable by kids as well as adults.
The pack's ruggedness and lightweight nature makes it a darling to most users. But aside from these it also contain a lot of other expensive and reliable features.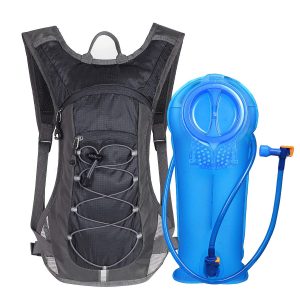 Features
Back Pad Offers Comfort and Function:
The pack comes with a comfortable built-in ergonomic back pad. Aside from providing additional cushioning, this pad offers another layer of insulation for the bladder.
Extra Storage Capacity:
When needed the outer pockets can be used for attaching extra gear using the handy molle system. Users can expand the storage of the pack without having to buy a larger backpack.
Well-organized:
The backpack compartments comes with interior mesh pouches which is used for organizing small items. This will help to make things easier to find and keep them from moving around as you walk or run.
Convenient Bladder Design:
The convenient backpack construction allows users to fill the bladder without needing to take it out of the pack. The bladder also has a wide opening, so you can easily put ice in it.
Advanced Drinking Tube Features:
Aside from being insulated, the drinking tube comes with a convenient 360 swivel spout. This is a much-appreciated feature. It also comes with a built-in dust cover.
60 days guarantee:
The pack comes with a 60 days guarantee, this way if you are not satisfied with the product you can easily contact customer care and your purchase price will be refunded, without any questions.
Pros
Aside from its 2.5 liter bladder, the spaciousness is another thing users are raved by
It is capable of holding ample provisions and survivalist tools
Some of them come in handsome camouflage design which makes them ideal for serious outdoor enthusiasts
Cons
Issues relating to leaks have been reported
The design is a little bit impractical when it comes to light use
Some users have complained of the pack being too heavy


---
Things to consider when buying a Running backpack
When going on a camping trip or hiking, it is important that you carry the most essential things that you would be needing for the journey. One of such items is your backpack. After all, this is what enables you to carry every other thing. Regardless of the number of days that plan to spend, a key element of your pack should be its ability to carry weight comfortably on your back and your body energy cost of running with backpacks while on long adventures etc.
Below are some of the important things to consider when buying your next hiking backpack
Weight:
This is one of the most important factors that you must consider when buying a backpack. You will be doing a lot of walking or running, you will definitely need something that won't weigh you down too much. Also, your shelter, sleeping bag and sleeping pad will be contained in your backpack. These materials are heavy. You can help yourself out by reducing the overall weight you will carry by buying a lighter backpack.
Price:
The way you care for your backpack and the overall quality will play a role in how long it will last. Therefore, it is smart economics to invest in high quality backpack. Quality doesn't necessarily mean you will break the bank, you can certainly still find great backpacks at good deals if you shop around and possibly wait for sales.
Inside frame:
If you definitely want a pack that is lighter, then you should be on the lookout for those made with modern materials, with good design and has a less bulky frame. Basic packs come with simple features and can carry the load of up to 35lb.
But if what you intend to carry is pretty heavier, then you have to forfeit lightweight and opt for packs with sturdier frame. Such packs are generally heavier. Big packs are built for heavier load and they come with extra padding to them comfortable. They are also built with more sturdy materials because of the extra weight.
Materials:
Good lightweight packs are made mostly from any of the two materials; Cuben fiber and ripstop nylon. Cuben fiber, although ligher, is more expensive. While Ripstop nylon is heavier but cheaper. But despite all these both materials are very durable and functional and can be used for making good lightweight packs.
Volume:
This is an important factor to consider but one which can be challenging if you are not experienced or if you don't have something specific in mind. It is important not to buy pack that is larger than what you actually need, as you may have the urge to have it filled thereby making it heavy. A 40lt backpack should be big enough for a few days trip and a bigger pack if you are going for longer or if it is winter.
Design:
Your backpack helps you to carry equipment and items in a way that is comfortable and no-damaging to your body. If there is a need to have zippers, straps, compartments and clips around the bag then it is fine. But if you don't have particular need for these things then it is best you avoid it and keep things as simple as possible.
Benefits of buying and using a running/hiking backpack
Makes storage easy:
This is one of the key benefits of using a hiking backpack, it helps the hiker to store his/her belonging in a proper way.
Moving around is easy:
When compared to suitcase which requires dragging, backpacks are much easier to handle. In a situation where you have to pass through a crowd, you can do so with relative ease as compared to the time and energy you would have expanded.
Organization:
Since the packs come with different compartments, that is for passports, cell phone and water bottles, this gives a high level of the organization allowing users to reach these basic items without stress.
Encourages neatness:
This organization that the pack allows encourages neatness. Organization helps to prevent mixing up of items hence allowing neatness.
Running Backpacks FAQs
Are all backpacks alike?
Backpacks differ for each individual and for their specific need. Below are a few of this category;
-Hiking backpack: Designed for outdoor trips, hence they are built in a way that alleviates stress on the back when carrying heavy load. It comes with a waterproof which protects your gear from the elements.
-Rolling backpacks: These are oftentimes high capacity backpack. They are versatile and usually rugged. They can either be carried or rolled.
-Canvas backpack: These offer traditional styling with its lightweight, sturdy construction.
How much can it hold?
You should load your backpack with enough to allow you comfortably carry it around. Backpacks differ based on their capacity. Below is what to expect;
-Daypacks: They have a capacity of 15-40liters. They are perfect as school backpacks and can be used as a replacement for school bags or could double as a travel backpack for overnight trips.
-Weekend and weeklong backpacks: They have a capacity of 40-75 liters. They are designed for short trips and casual vacation travel.
-Travel backpack: These have a capacity of 75-100 liters. They are great for long vacations abroad and lengthy camping trips.
Will it make my back ache?
A wrong backpack can make your back hurt and your back miserable. It is advised that you try before you buy as each pack will suit your physical build differently. Backpacks come with an internal frame, this uses aluminum rods to provide structure and conform to the contours of users back. This redistributes weight to be closer to the body near the lower hip area, removing stress from the spine.
Backpacks are incredibly versatile and excellent for different purposes. When selecting a backpack in 2020, ensure to buy one that suits your purpose. Regardless of how good a backpack maybe, if it doesn't satisfy the reason for the purchase then it loses its usefulness to you.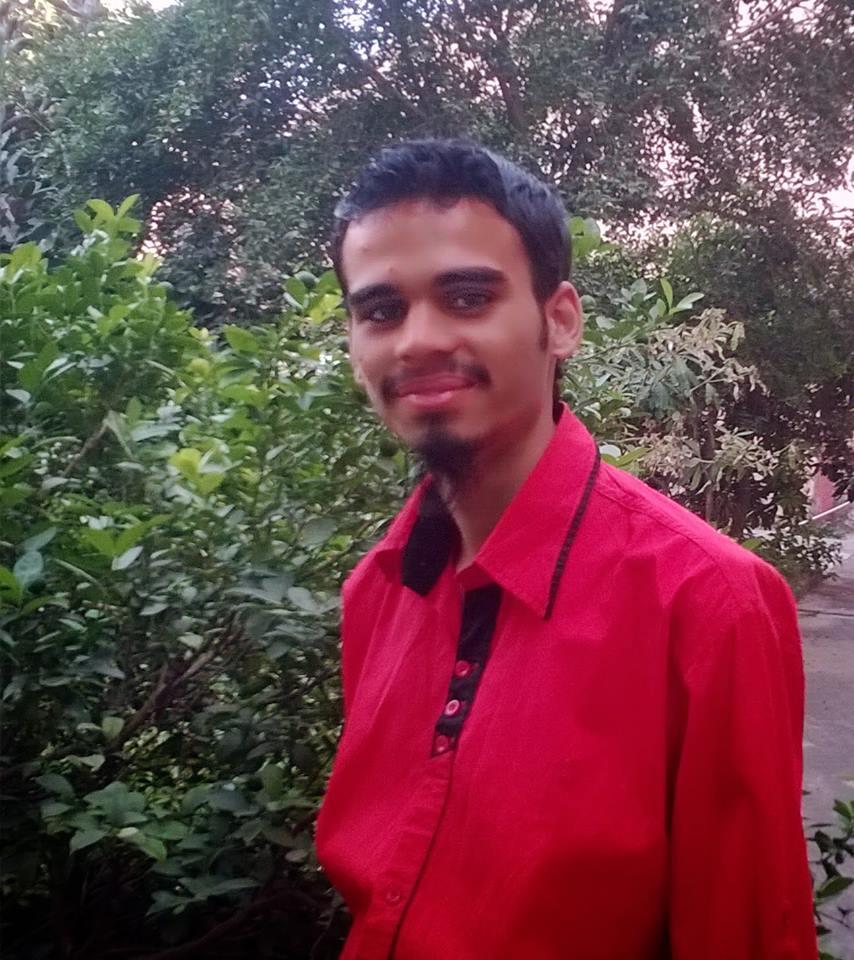 My name is Tushar, I am a fitness expert and product review enthusiast for over a decade who provides best and unbiased reviews for products available in the market on this website after doing hours of research on various topics and products including health and fitness. To read more about Tushar and this website mission head over to our About us page.