healthy desserts serves as a Mozart in disguise when it comes to eating out your favorite desserts without worrying about your health.
They help us to maintain our health while cuddling our taste buds with their sweet aroma and taste which dwells across our mouth to make us feels delightful and blissful.
Sweet and delicious recipes could always be the part of our healthy diet. Here are some recipes which will keep you healthy and striking for again and again. The greatest recipes which includes collections of baked desserts , unbaked , frozen ,cooked, uncooked desserts is given right below for you to live a healthy life without any compromises with desserts in your life.
CHOCO CHIP COOKIE

Ingredients
3 large bananas
½ cup of peanut butter
3 teaspoons of coconut oil
1 teaspoons of vanilla extract
2 teaspoons of honey or maple syrup
½ cup of rolled oats
1 cup of all purpose flour
½ teaspoon salt
1 teaspoon baking powder
¾ cup dark chocolate chips
Directions
Pre heat the oven around 350 degrees
In a large bowl make the mixture of mashed up bananas, peanut butter, baking powder, oil, maple syrup, salt and vanilla.
Then add flour and oats and mix well. If the mixture is wet then add more flour.
Then add Choco chips and stir well.
Line baking sheet with parchment paper or silicon mat and drop the cookies by spoons.
Bake it for at least 15 min. or slightly more until they are golden brown.
Then remove the cookies from the rack and place for cooling at-least for 1 hr.
MIXED FRUIT CREAMY TRUFFLE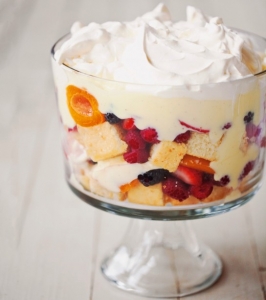 Layers of fresh fruit mixed up with the light chiffon cake, vanilla custard and cream makes it best for summer days.
Juicy fruity truffle awesome for summer parties.
Ingredients
¼ to ½ cup sugar depends on your taste.
4 – 6 cups mixed summer fruits example blackberries, strawberries, peaches, apricots, cherries.
3 tablespoons of cornstarch, mixed with water
Pinch of kosher salt
½ cup sugar
6 egg yolks
1 vanilla bean
2 ½  cups whole milk
1 cup heavy cream
For vanilla chiffon cake :
2 cups of cake flour
1 cup sugar
2 tsp. baking powder
1/3 cup canola oil
2 tsp. pure vanilla extract
4 eggs
½ tsp. kosher salt
¼ tsp. cream of tartar
½ cup sweet sherry
Whipped cream for serving
Directions
To make the custard in a saucepan ,warm the milk and cream at low heat. split the vanilla bean then add the beans and the seeds to the creamy mixture.
Take another bowl mix together the eggs, sugar, salt . then stir it in the corn starch mixture. Now slowly pour the creamy mixture about half into the yolk mixture, now pour the entire mixture into the pan by constantly stirring it. heat it to medium low. cook it for atleast 4 minutes. Let it cool completely, custard is ready.
The vanilla chiffon cake, in a bowl, sift together the flour and baking powder. Whisk in half of the sugar. In a large bowl, whisk together the oil, vanilla, egg yolks, and 1⁄3 cup plus 2 tablespoons water.
Take a third bowl, using a mixer fitted with the whip attachment, beat the egg whites, salt, and cream of tartar. When the egg whites get frothy, slowly add the remaining sugar, beating just until stiff peaks form.
Mix the dry ingredients into the wet ingredients, then fold the egg whites into the batter. Divide the batter evenly between the prepared pans. Bake until a toothpick inserted into the centers comes out clean, 15–18 minutes. Let cool in the pans on wire racks for 15 minutes.
Now let cool then take it out from the container with knife.
Now to ready the truffle…..take a large bowl….add some sugar to the freshly cut fruits….cut the cake into small pieces.
Make the bottom of the bowl with the cake slices, using about half of the slices. Sprinkle the cake with half of the sherry, then top with half 
of the fruit and half of the custard. Top with the remaining cake slices, sherry, fruit, and custard. Cover with plastic wrap and refrigerate for 
at least 2 hours.
ROASTED BANANA PUDDING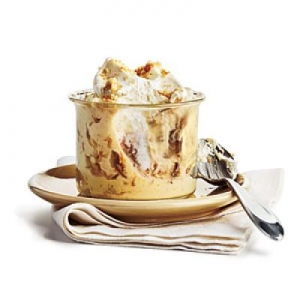 Delicious and easy. The roasted banana taste definitely adds a nice caramel flavor. so rich and creamy you would never know it's "lighter!".
You must follow the directions exactly to make it perfect. This is a great recipe for a cool summer night when you want a sweet treat!
Ingredients
5 ripe unpeeled medium bananas
2 cups 2% reduced-fat milk
2/3 cup sugar, 2 tablespoons cornstarch
1/4 teaspoon salt
2 large eggs
1 tablespoon butter
2 teaspoons vanilla extract
1 container frozen fat-free whipped topping, thawed and divided
45 vanilla wafers, divided
Directions
Preheat oven to 350°.
Place bananas on a jelly-roll pan covered with parchment paper. Bake at 350° for 20 minutes. Remove 3 bananas; cool completely. Peel and cut into 1/2-inch-thick slices. Bake the remaining 2 bananas at 350° for an additional 20 minutes. Carefully peel and place the 2 bananas in a small bowl, and mash with a fork until smooth.
Combine milk and 1/3 cup sugar in a saucepan over medium-high heat. Bring to a simmer (do not boil).
Combine remaining 1/3 cup sugar, cornstarch, salt, and eggs in a medium bowl; stir well with a whisk. Gradually add hot milk mixture to sugar mixture, stirring constantly with a whisk. Return milk mixture to pan. Cook over medium heat until thick and bubbly (about 3 minutes), stirring constantly. Remove from heat.
Add mashed bananas, butter, and vanilla, stirring until butter melts. Place pan in a large ice-filled bowl for 15 minutes or until mixture comes to room temperature, stirring occasionally. Fold half of whipped topping into pudding.
Spread 1 cup custard evenly over the bottom of an baking dish. Top with 20 vanilla wafers and half of the banana slices. Spoon half of remaining custard over banana.
Repeat procedure with 20 wafers, banana slices, and custard. Spread remaining half of whipped topping evenly over top. Crush remaining 5 wafers; sprinkle over top. Refrigerate for 1 hour or until chilled.
ENERGY BALLS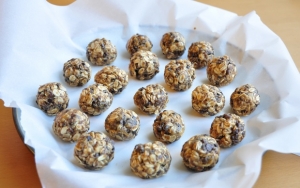 Tasty bites to serve any time filled with proteins, whole grain , omega -3 fats and other nutritious things.
Ingredients
1 cup old-fashioned rolled oats
½ cup natural peanut butter
1/3 cup honey
½ cup ground flaxseed
½ cup mini semi-sweet chocolate chips
Directions
Mix all ingredients together in a large bowl.
Roll into one-inch balls.
Refrigerate it atleast for 1 hr….then serve it .
FRUITY PIZZA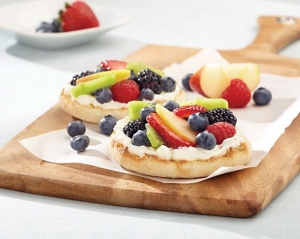 Each serving provides an excellent source of vitamins A and C, and is a good source of foliage and fiber!
It could be enjoyed as healthy breakfast dessert or as an snack.
Ingredients
1 English muffin
2 tablespoons whipped fat-free cream cheese (original or flavored)
1/3 cup strawberries, sliced
1/4 cup blueberries
1/4 cup canned mandarin oranges.
Other types of fruits could as also be used as per your wish.
Directions
Toast the English muffin until golden brown.
Spread cream cheese on toasted muffin.
Arrange fruit on top of cream cheese.
Slice into quarters and now have fun with your delicious fruit pizza.
FROZEN POPS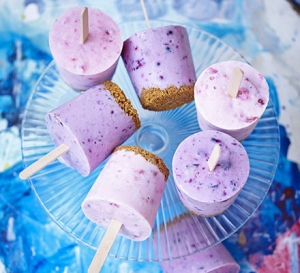 Amazing lollies that could be served at any point of time as a special dessert.
Summer specialty dessert full of taste and healthy fruits.
Ingredients
100g ginger nut biscuits
400g can light condensed milk
250g red berries, we used strawberries, raspberries and redcurrants
500g natural yogurt
250g purple berries, we used blueberries, blackberries and blackcurrants.
Directions
Place the biscuits in a food processor and blitz into crumbs. Add 2 tbsp condensed milk and blend again until the crumbs start to clump together. Divide the biscuit crumbs between 8 paper cups, pressing down with the back of a spoon.
Chop the large berries. Put half the red berries, half the remaining condensed milk, and half the yogurt in the food processor and blend until smooth. Stir through the remaining chopped red berries.
Divide the mixture between 4 of the paper cups. Repeat with the purple berries and remaining ingredients.
Place a lolly stick into each cup, pushing down into the biscuit base to help it stand up straight. Freeze for at least 4 hrs before serving. To remove the lollies from the cups, tip upside down, and gentle squeeze the cup until the lolly slips out.
WHITE CHOCOLATE RASPBERRY PROTEIN PANCAKES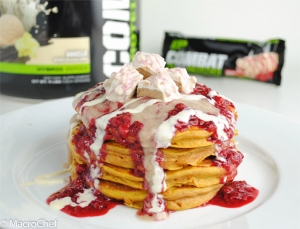 Loaded with protein, which makes it best for the post workout protein refuel.
With a total cook and prep time of 12 minutes, these loaded flapjacks are a breeze to whip up.
Ingredients
Whole wheat flour 1/2 cup
Musclepharm combat powder, vanilla 1 scoop
Granulated stevia or erythritol 1 tbsp
Baking powder 1 tsp
Milk 1/2 cup
Egg 1 large
Natural applesauce 1/4 cup
Pumpkin puree 1/4 cup
Frozen raspberries 1/4 cup
Vanilla extract 1/4 tsp
Frozen raspberries 1/4 cup
Maple syrup 2 tbsp
White chocolate coconut butter 1 tbsp
Melted white chocolate 1 tbsp
Directions
Preheat pan or griddle to medium-high heat. In a bowl, mix together flour, protein powder, Stevia, and baking powder. In a separate bowl, mix together egg, milk, applesauce, pumpkin, and vanilla extract.
Combine wet and dry ingredients and gently mix together until combined. Fold in 1/4 cup frozen raspberries. Spoon batter onto griddle to make four medium-sized pancakes.
Cook for about 3-4 minutes per side.
Heat 1/4 cup raspberries in microwave for 30 seconds. Add 2 tablespoons of syrup and mash together. Top pancakes with raspberry sauce, white chocolate coconut butter, and melted white chocolate.
Cut protein bar into small pieces, use to top the pancakes, and enjoy.
Oatmeal Chocolate Chip Cookie Bars

Ingredients
1 1/2 cups spelt or all-purpose flour (oat flour works; the texture is just a bit gummier)
1/2 tsp salt
1/4 cup rolled oats
1/2 cup brown sugar or date sugar
1 tsp baking powder
1/2 cup to 1 cup chocolate chips, depending on how chocolatey you want the bars to be
1/2 cup vegetable or coconut oil
1/2 cup applesauce
2 tsp pure vanilla extract
pinch Stevie, or 2 tbsp sugar of choice
3 tbsp blackstrap or regular molasses
Directions
Preheat the oven to 325 degrees and line the bottom of an 8×8 pan with parchment paper, then set aside.
In a mixing bowl, stir together the first 6 ingredients. In a separate bowl, whisk together all liquid ingredients, then pour wet over dry and stir to form a batter. Spoon into the prepared pan. Bake 25 minutes.
Makes 15-24 squares, depending on how large you cut them. you can always substitute pure maple syrup or agave or honey (vegans don't use honey) if you'd prefer.
so what are you waiting for guys ,just head towards your kitchen to try one the above given dessert recipes to relish your taste bud with the best desserts without compromising with your health.
let us know your views about the desserts in the comment section given below and don't forget to visit 10 best foods for healthy skin and 11 best benefits of eating healthy along with nutrition facts for healthy life
Eat Healthy Stay Happy 🙂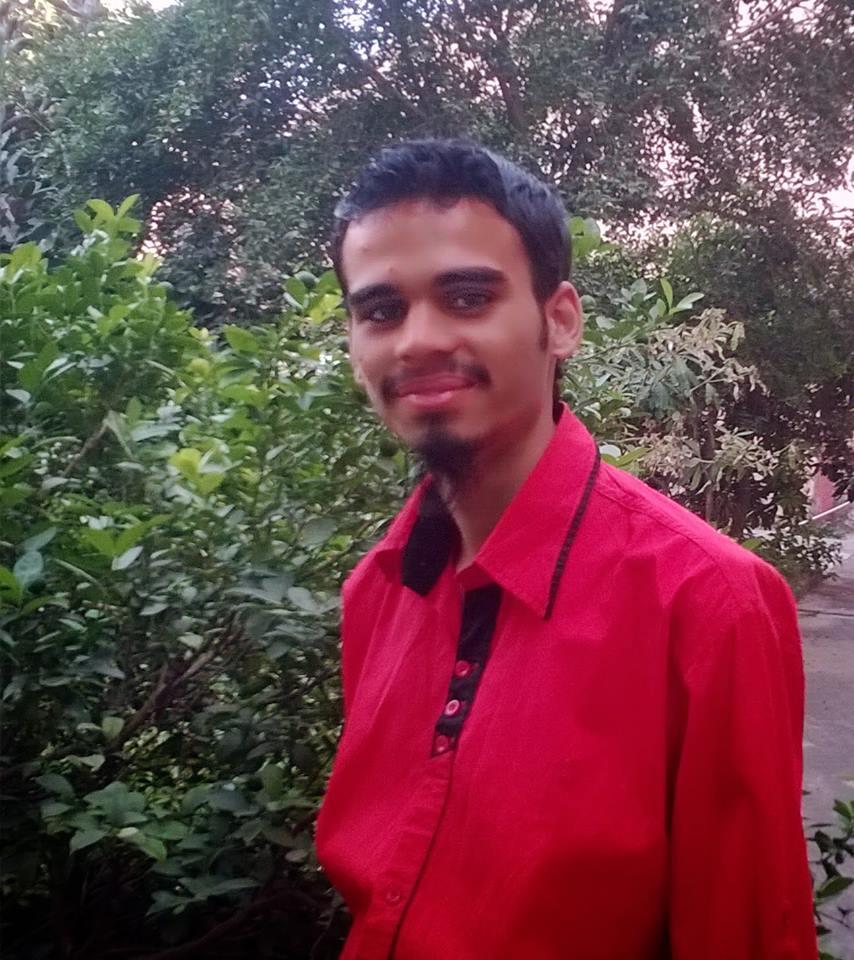 My name is Tushar, I am a fitness expert and product review enthusiast for over a decade who provides best and unbiased reviews for products available in the market on this website after doing hours of research on various topics and products including health and fitness. To read more about Tushar and this website mission head over to our About us page.