Generally, recumbent bicycles are cycles designed to reduce fatigue and injury by increasing comfort. While achieving its functional workout purposes. This is achieved by its design which efficiently accommodates the rider's gluteal muscles and lower back in a reclined position on wider seats. When talking about stationary recumbent bikes though, we refer to workout equipment used for the general purpose of keeping a fit and healthy body.
Like a regular standing stationary workout bicycles, stationary recumbent bicycles can be used for cardiovascular exercises (exercises that increases the heart rate) indoors by riding the bicycle which wouldn't move from a spot therefore eliminating risks associated with outdoor riding, but unlike upright stationary bicycles recumbent bikes are much more comfortable to use and are much more gentle on joints thereby reducing fatigue, and risks of injury that would otherwise be associated with using upright bicycles while still achieving the same functional workout results.
Recumbent bikes are often recommended by the physical therapist to patients recovering from injuries or people with a history of lower back pains to help them get adequate body exercise while recovering as well as helping with the recovery process just like the inversion tables and back braces which also helps for recovery from back pain.
Ideally many workout recumbent bikes have some general features which aims at making it comfortable and effective to use indoors. These includes:
Foldability – Many recumbent bicycles are foldable and this allows them to be easily transported from purchase stores to the home as well as maximizing home spaces. By folding it when not in use, recumbent bikes won't take too much of your living space and allow you to fit in other items comfortably in your home.
Adjustable seats
Heart Rate Monitors
Bottle Holders
Adjustable resistance
Straps to hold your feet in place
Having identify some of the key features of stationary recumbent bikes, we can move on to evaluate some of the more common ones. In the following section, I will be discussing peculiar features of some the more accessible recumbent bikes including their pros and cons.
Just like every other things people have different tastes and this applies to recumbent bikes as well, hence manufacturers have made them to satisfy our varying tastes. Coming in different shapes, colours and designs, recumbent bikes are designed to match the usual household atmosphere.
Best Exercise Recumbent Bike Reviews 2022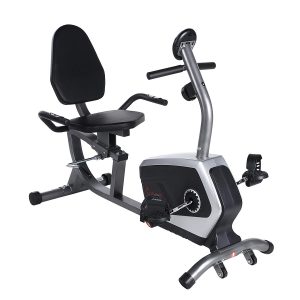 This is the first product to be reviewed and it is produced by one of the big name's, Sunny Health. This bike has a classy look to it, with well padded, cushioned seats that is much easier to slip in and out of. It features a grip effective handle which includes a pulse rate sensor with which measures your workout intensity without you having to move around.
The seat is easily adjustable while on the workout allowing to shift comfortably without having to stand up, although on back and forth movement is permitted. It can comfortably support up to 300 pounds of the rider.
It uses a magnetic system with an easy to reach control knob to control its resistance level. It doesn't come assembled, the user has to put it together in the house, however there are dedicated videos on YouTube that guides the user on how to assemble it.
Dimensions and Weight: 54.5 X 26 X 39.5 inches weighing 59 pounds
The bike comes with some key features:
Pulse Monitor:
The bike has a Pulse Monitor which can be used to monitor heart rate. The measuring of pulse rate is very vital to exercising efficiently and correctly. In order to burn as much fat as possible, the heart rate must be prolonged and steady during the workout session. The data obtained from this monitor can help users better understand their health and fitness status.
Cushioned Seat:
The design of the bike allows for easy in and out from the cushioned seat. This design is safer and cause less strain on users back and legs when they are seating in and out. There is no need for mounting or dismounting, and there is certainly no more obstruction.
Adjustable Resistance:
Users can increase the intensity of their workout with a simple tension knob. By just twisting the knob, you can either decrease or increase resistance thereby making your workout on the SF-RB4616 can remain as challenging and effective as you desire. By using this tool, users can engage in unique and different routines for every workout, stimulating the muscles in different ways and generating unique workout patterns.
Patented Easy Seat Adjustment:
For older bikes, users will have to get off their seat to make adjustment to the seat. But with the easy seat adjuster, users can make adjustment by just the flick of a handle, located by the side of the seat, no hassle, all while seated.
Pros:
It is relatively affordable, going for less than $200 on amazon
It comes with a fitted wheel for easy transport
Resistance can be adjusted for varying degree of challenge
The user can easily read his/her pulse rate to gauge the intensity of their workout.
Cons:
It doesn't have a bottle holder
Its seat can only be adjusted forward and backward which can make it inconvenient users that are not of average height.
Its handle bar cannot comfortably be reached while cycling.
It is not foldable
Benefit of using
It helps to burn extra calories
Easy to reach adjustable handle for seat adjustment
It is good for the heart
Buying guide
It is recommended for home use
The maximum weight it can hold is 300lb
The assembled product weight is 59lb
FAQs
Is the seat height adjustable?
No, the seat can only be adjusted forward and backward. No available height adjustment.
Does it come pre-assembled?
No, you have to assemble it yourself.
What is the warranty?
The bike has a 3 months/90 days warranty. This means there is a three years warranty on the structural frame and a 90 days replacement for parts and components.
Is the seat comfortable?
Yes, it is.
What is the flywheel weight in lbs?
The flywheel weight of this bike is 6.7lbs


2. PROGEAR 555LXT Magnetic Tension Recumbent Bike
If you plan on programming your workout goals then this is the right machine for you. The Progear 555LXT Recumbent bike is apt for users with an ambition, helping them to achieve the workout they want. Although the bike is uniquely compact for tight spaces, it still offers a great workout experience.
It has an infinite slider seat rail adjustment that is easy and smooth. The bike is apt for users with height up to six feet 3 inches. With this bike you can certainly achieve your fitness goal becoming much healthier than ever.
Below are some of the key features of the Progear 555LXT Recumbent Bike:
3 goal workout settings:
The bike features a 3 computer workout settings for goals of distance, calories burned and time. The bike has a 'Step Thru' designs which allows for easy on and off the bike. The bike's weight capacity is 250 pounds. It has a stable and durable steel frame construction.
Wide LCD with Large Numbers:
The bike features a wide LCD screen which provides large numbers, allowing users to view the digits easily. The computer has an odometer, speed, time, RPM, calories burned and distance.
14 Levels of Magnetic Tension Resistance:
The machine features a 14 levels magnetic tension resistance, which is fully tested in the lab for performance, durability and endurance.
Extended Cushioned seat:
The bike features an extended comfortable seat, which can be used by any user. It also has soft recumbent handle bars which users can push through when engaging in intense workouts.
Slider Seat Adjustment:
The bike features an infinite slider seat adjustments which can be used to manipulate the setting of the machine so it can accommodate users of heights between 5 feet to 6 feet 3 inches.
Cushioned back rest:
The cushioned back rest helps to support users lower back.
Transportation wheel:
The bike features transportation wheels which allows it to be easily transported from place to place.
Smartphone/tablet holder:
The machine features a built-in smartphone/tablet holder
Oversized pedals:
The bike is fitted with oversized pedals that can fit the feet of users, no matter how large they may be
Water bottle holder:
The bike features a built in water bottle holder which allows for easy access while users are working out
Quiet Drive Belt System:
The bike features a belt system that allows for quiet and uninterrupted workout sessions.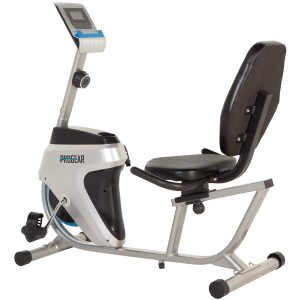 Pros
-Easy to assemble
-Affordable, worth the price
-Wide screen LCD panel
-It has a 'step design' which allows easy access
-It comes with tablet holder and water bottle holder
-It has three work-out goal settings that indicates calories, distance, and time
Cons
-Does not have a pulse monitor
-People who are exceptionally tall (over 6'3) or exceptionally short (under 5'0)may have difficulty using the bike comfortably
-It is not ideal if you wish to monitor every aspect of your performance
-Placing a book or tablet on the tablet holder may block all or part of the LCD display.
Buying guide
It is suitable for men and women of up to 6'3
It is suitable for anyone who is up to 250 pounds
The total weight of the machine is 60 pounds
The dimension in inches is 49L X 22W X 43H
FAQs
Will viewing my smartphone block the LCD Screen?
It will partially block it. What you can do is to set the smartphone off to one side.
Is it normal for the bike to be noisy?
No, it isn't, something is certainly not right with the set up. Try reassembling it. If the noise continues, contact the company to have it replaced.
What is the height of the seat from the floor?
22 inches
Does the bike comes preassembled?
No, you will have to assemble it yourself
What are the dimensions of the seat?
16″wide and 13″ deep
Conclusion
Despite the cons of this bike, the pros definitely outweighs the cons. It comes with a wide range of resistance to satisfy people of all fitness levels. It can also be used by both men and women, all that is needed is adjustment.
To know more about this bike, click button below


If your work requires you to sit for long hours working, and you are starting to get worried about the health effect of such sedentary lifestyle, then the Exerprutic Exertwork 1000 is just the right machine for you. You can use the Exerpeutic Exertwork as both an exercise bike and also you can use the desktop as a platform for work, comfortably placing your laptop, iPad, smart phone or favorite book on it. The bike offers an excellent unique opportunity for you to exercise and get healthy while working.
Some of the key features of this bike includes heart pulse monitoring, double drive transmission system, and a high torque 3 piece torque crank system. With this bike you can burn those extra calories while you read, work, watch a movie or just surf the internet. The bike can be relocated easily, as it can be folded and moved using the built-in transportation wheels. Adequate and balanced work and exercise can help to improve mental alertness, burn calories, fight depression and tone muscles.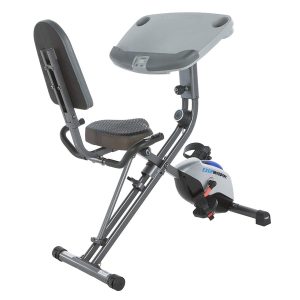 This particular exercise bike from paradigm health and wellness has a very unique feature – a desk designed to be used as a work platform. This beauty would appeal to users who are easily bored or feel a workout routine by itself is insipid as you can easily fit your tablet, iPad, PC or MacBook for use of either play or work on it while you work out on it, you can even fit in a book or novel to read.
Particularly you can decide to see a movie throughout your workout routine or go through your emails, effectively killing multiple birds with a single stone allowing you to fit your workout schedule easily into your daily activities without affecting other activities.
Apart from this, the exclusive desk, the manufacturer prides itself of its state of the art three-piece torque crank system running on a double drive transmission system which allows for a smooth pedaling experience. It has a semi recumbent design for a more comfortable workout.
Dimensions and Weight: It has a dimension of 45 X 51 X 25 inches, weighing 64.7 pounds.
Peculiar Features
It has is foldable and comes with wheels, this enables it to be moved around easily.
It has a workable desk which allows users to get things done while on the workout
It has a pulse rate reader and monitor which displays the user's pulse rate, and also features an odometer which measures the user's speed.
Key features
300 pounds weight capacity:
The bike weighs a modest 300 pounds, allowing users to get on and off the bike with ease
Fully adjustable sliding desktop:
The bike features a very flexible and adjustable desktop, with forward, back, up and down adjustability apt for either standing or sitting position. The desktop has three angle adjustments and five height adjustments of up to 45 inches. The working surface measures 16″ L and 24″W. It can hold weight up to a maximum 44lbs. It comes with two cup holders and a storage drawer.
2.5 inches thick Airsoft Seat:
The bike has a large and oversized seat; 11 inches X 15 inches, and it utilizes aerodynamic healthcare technology, which allows air to breathe through the fabric. Despite many hours of use, the seat still remains cool. It can be adjusted to fit users with heights between 5 ft2″ to 6ft3″. The seat is fitted with hand pulse sensors which helps to monitor users heart rate.
8 Level tension resistance:
Users can decide to adjust the tension level to achieve either a more difficult or easier workout. This can be done using an 8 level magnetic tension control system.
LCD Computer:
The machine is fitted with a LCD display computer that indicates speed, heart rate, distance covered and calories burned.
Standing desk:
When users get tired of sitting, the desk forward and backward adjustability allows the desks to be used while standing.
Folding capacity:
The bike can be folded after use for storage, even after it is fully assembled.
Large Cushioned Backrest:
The backrest is 1.3″ thick and fully cushioned. It measures 15.5″H X 11.3″W.
Quiet Operation:
The V-Belt drive plus its precision balanced flywheel allows for a quiet and smooth operation. Using the machine will certainly not interfere with users watching a movie or listening to music.
Transportation Wheels:
It is fitted with transportation wheel that allows for easy transportation.
Pro
Easy to move around
Very quiet during usage
Easy to assemble
Built-in LCD
It helps to track time, distance, speed, pulse and calories burned
It can be folded away quite easily
It comes with storage drawer and cup holder
Cons
Back rest isn't as comfortable as it should be
LCD display is smaller, compared to other such bikes
Although the seat and work desk can be easily adjusted, the bike is most suitable for people between 5'2 and 6'3
Things to consider before buying
The bike is apt for people who spend long hours sitting at work
It is suitable for anyone who is up to 300 pounds
It can be used by anyone between five feet two inches and six feet three inches
The total weight of the machine when assembled is 64.7 pounds
The dimension of the machine is, inches, 45.3L X 25W X 51.3H
The work surface is 24 inches W, 16 inches H, and it can hold objects of up to 44lbs.
FAQs
What kind of sound does it make when pedaling?
It doesn't make any sound, super quiet
Can you use this bike while playing video game online?
Of course, yes.
How comfortable is the seat?
Very comfortable, you can sit on it for hours even when you are not pedaling and not feel the need to move to your desk chair
Does the tension stay engaged if you pedal backwards?
Yes it does, the torque from the magnetic field remains the same regardless of direction of rotation
Does the bike give mileage and calories burned?
Yes, it does.
To learn more about this bike, click the button below to visit amazon.com


4. Exerpeutic 900XL Extended Capacity Recumbent Bike
The Exerpeutic 900XL Extended Capacity Recumbent Bike is built such that it can handle close to 300 pound user weight capacity. The other unique features that the bike comes with includes magnetic resistance which is applicable for more challenging workouts and hand pulse which helps to monitor heart rate.
The key features found in Exerpeutic 900XL Extended Recumbent Bike includes
300 Pounds Weight Capacity:
The bike can support weight of up to 300 pounds. Also, it has a 'Step Thru' design which facilitates easy on and off, allowing for a more comfortable and effective workout.
8 Level Magnetic Tension System:
Users can achieve an easier or more difficult workout by adjusting the 8 level magnetic tension control system.
LCD Computer:
The bike features a large and easy to read LCD display that indicates calories burned, distance covered, speed, time and heart rate monitor.
Heart Pulse Sensors:
This monitors the heart pulse, allowing users to remain within target heart rate zone.
Large seat/back rest:
The bike is fitted with large oversized seat with matching back rest which can be used by users of any size. The seat can also be adjusted depending on the preference of the user.
Quiet Operation:
The V-belt drive and balanced flywheel allows for a quiet and smooth operation, therefore not interfering with users watching tv or listening to music.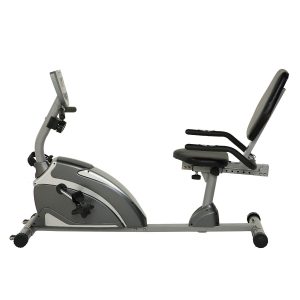 Pros
It features 8 different resistance levels
It has legs stabilizers
Transportation wheels included
Magnetic resistance makes the bike very quiet and smooth
Cons
There is no holder for iPad or any device
The seat can sometimes be hard to adjust
Buying guide
The product weight is 63lbs
The product dimensions are 22X54X34″
FAQs
Can it be pedaled backward?
Yes, it can be pedaled in both directions. There is no resistance as you pedal backwards.
Is there a cup holder for beverage?
No, it doesn't come with one. You can hold your beverage in your free hand.
Can short people use it?
Yes, all you need to do is to get it adjusted.
Is there a way to buy a separate machine if one breaks?
If the machine is still on warranty, then the company will fix it for your without cost.
Is the bike electric powered?
No, it's manual.
Overall
If you want an effective and comfortable way to workout that will deliver results, then this bike is certainly for you. This is because of its solid build and affordable price


The Exerpeutic 400XL Folding Bike, just as the name denotes, can be folded up and rolled away once users are done exercising. It has the capacity to hold weight of up to 300 pounds. Some of its key feature includes; 8 level magnetic tension control system, double drive transmission system. Below are some of its key features;
Semi Recumbent Design:
The bike is built in such a way that it allows users to get on and off with ease.
Large seat cushion and back rest:
Regardless of your size, the seat cushion and back rest is large enough for you. It can be adjusted to user height of between 5 ft 2 inches to 6 ft 2 inches.
8 Level magnetic tension system:
Users can adjust the tension level to achieve an easier or more difficult workout session.
Large LCD Display:
The bike comes with an easy to read LCD display window that indicates calories burned, distance, scan, pulse, and speed.
Hand Pulse Sensor:
It comes with a hand pulse sensor which is used for monitoring the heart rate zone.
3 Piece Crank System:
The bike can work very quietly without making noise that would interfere with users watching tv or listening to music.
Foldable:
The bike can be folded into half its original size for easy storage, plus it has transportation wheels which allows it to be easily moved around.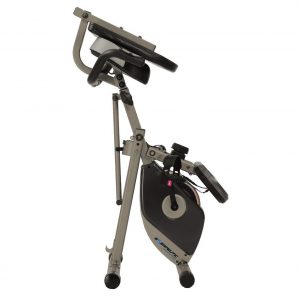 Pros
Extendable leg stabilizers
Large pedals with safety straps
Hand pulse sensor for the heart
Can carry up to 300 pounds
Highly affordable
The space requirement is small because of it compact size and the fact that it can be folded.
Cons
There is space for iPad or any device, you will have to build or buy additional holder for it.
The seat can be uncomfortable after working out for a long time
The readings on the heart rate monitor can sometimes be inaccurate
Buying Guide
It is extremely quiet when using
Although it is stable, it tends to wiggle a little if you are peddling on a padded carpet
The resistance is set manually, meaning it does not require the computer to function
The computer is powered by two AAA batteries
FAQs
Can you pedal backwards and forward on the bike?
Yes, it goes both ways
Is the bike easy to assemble?
Yes, very easy to assemble, even without technical knowledge
Is the bike easy to fold and roll to a closet?
It is very easy to fold and it rolls quite easily. It is also not too heavy.
What is the width and depth of the seat?
15 inches wide and 2 inches thick
How quiet is it?
It is very quiet, smooth and comfortable.
To learn more about this bike, visit amazon.com by clicking button below


6. Marcy 

ME-709

 Recumbent Bike with Resistance
If you are looking for the easiest way to lose unwanted pounds and improve your cardiovascular endurance without consuming much floor space, then the answer is in the ME-709 magnetic recumbent bike from reputed brand of marcy. With the ME-709 bike, you can take advantage of similar type exercise features which are available on larger and more expensive exercise bikes. The ME-709 bike has a compact design, allowing it to fit into the smallest exercise space possible.
It comes with a 2-year manufacturer warranty. Aside from helping to burn calories and losing weight, it helps to shape and tone body physique and improves cardiovascular endurance.
Key features
Adjustable resistance:
It comes with 8 Pre-set levels of smooth magnetic resistance. This is delivered by eddy current.
Work out metrics:
The bike has an easy to read computer screen that indicates distance, speed, time and calories burned.
Comfortable padded seat:
The bike has well padded seat which offers comfort as users burn extra calories
Pedals:
Users are sure to keep their feet in proper position with the counter balanced weighted pedals, fitted with foot straps.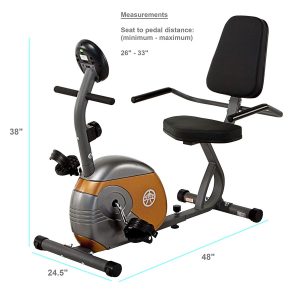 Pros
Apt for people with back and hip pain
Very clear to read instructions
Easy to assemble
It is completely quiet
Affordable price
Transport wheels to help with movement
Cons
Does not come with heart rate monitor
It doesn't have pre-programmed workouts
The seat doesn't have a headrest
Workouts cannot be uploaded or track overtime
Buying guide
It is important not to remove the rubber band that holds the computer wiring located at the end of the tube. At least, not until you are ready to hook it up.
FAQs
How much does it weigh?
It weighs between 30-50 lbs, But most importantly, it has wheels allowing it to be easily moved from room to room.
Is it possible for me to fall off?
Very less likely, the handles by the side ensure that users don't fall while using it.
Is the bike power manual or electric?
Manual
How is the computer screen powered, I don't see a cord.
It uses 2 AA batteries. This doesn't come with the bike.
Will this bike work for someone who is 6ft 2 inches?
Yes, it would work perfectly well for someone that tall.
Overall
This bike is good for people who are considering light to moderate levels of exercise, plus providing low impact cardio workout.


7. cycool Recumbent Bike:
The Marcy Recumbent Exercise Bike allows you to save on gym membership and turn your home into a favorite workout place. The cycool is built to withstand heavy daily use as it is resistant to scratches, damages from environment and chips. The seat is specially designed and has contoured handles which helps proper body form and allows your body to conform exactly to the equipment.
The bike is also equipped with wheels, allowing for easy mobility from one place to another.
Despite the fact that it has a space-saving design, this bike is immensely powerful, fitted with a quiet V-Belt double drive transmission system and a precision-balanced flywheel.
It is also apt for frequent exercisers, as it possess an inviting and comfortable design, thereby allowing it to be the choicest bike for people who are just recovering from an injury or those who have a dislike for upright-style bikes.
If you wish to lose weight and tone up, all at the same time, then the cycool Recumbent Bike is just the idea machine for you. It design makes it easy to get in and out, also it comes with densely padded molded foam seat which sitting very comfortable for users.
It has a 22lb flywheel system plus a reliable poly v-belt  which allows for a quiet and smooth workout session. As you achieve your fitness goal you can challenge yourself to greater resistance level. It has a dual color easy to read backlit LCD display, which, interestingly, also incorporates speakers that can work with your MP3.
Below are some of its key features:
2 color Backlit LCD screen:
The blue and yellow color backlit LCD allows for easy reading of useful fitness info.
24 workout Programs:
It possess 24 programs some of which includes; 12 Preset, 4 custom programs,  4 heart rate programs, 1 body fat burning program and a manual setting program options.
Heart Pulse Rate monitor Grips:
This seat handlebar allows users to monitor their heart rate always.
22LBS Flywheel:
The flywheel features a belt drive system, heavy flywheel and magnetic resistance which is quite smooth while working allows for a long maintenance free working of machine. With the 24 different resistance levels, it can challenge users regardless of their fitness level.
Transport wheels:
In order to move your equipment around with ease, the bike comes with a front transport wheel.
Seat adjustment:
It comes with a pop and pin knob which can used to tighten your seat once comfortable position is achieved.
Leveler adjustments:
The leveler are used to ensure that the equipment is solid and level.
Foot pedals:
It comes with over sized foot pedals with a secure to use surface which is non stick in nature that aids workout and add comfort.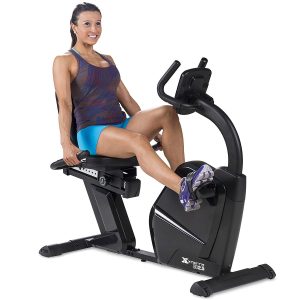 Pros
Very easy to assemble
Solid and sturdy design
Extremely comfortable seat
Very effective sound system
It has a decent warranty plan
24 workout programs
24 levels of resistance
Cons
Doesn't have a kindle holder
There is no transport wheels
There is no bottle holder
FAQs
What is weight limit for this bike?
300lbs
Does it have a fan?
No, it doesn't.
Does it have a place for kindle, smartphone etc. ?
No, it doesn't. You will have to buy a holder or find a suitable solution for that.
Can the seat be adjusted while pedaling?
Yes, this can be done using a slide mechanism. But to be on the safe side, it is advised that you stop for a few seconds to make the adjustment.
What are the dimensions of this bike?
The assembled dimensions are: 53.4″L X 25.2″ W X 43.7″
Overall
For anyone looking for a decent stationary recumbent bike, this is the choice to make. Compared to the quality the price is just excellent. Although it is very good for cardio, it also incorporates several  programs that helps calorie burning. It is a well-built bike which should serve you for many years to come.
To learn more about this bike, visit amazon.com via clicking below button


Cycling is one of the most effective exercise to engage in to keep the body fit and tone the muscles. It comes widely recommended by trainers as a means of boosting immunity and strengthening lower body. The harison Elite Total Body Recumbent Bike is enhanced such that it possess features of traditional exercise bike and a new upper-body exercise option. The bike is efficient, customization and highly comfortable.
This harison bike can also be called a 2-in-1 Exercise machine as it allows users to pedal their way to fitness via the traditional workout or by the use of the upper hand pedals which offers full-body exercise.
The bike comes with some other key features:
Upper hand pedals:
The upper hand pedals allows the arm, shoulder and back to be engaged during workouts.
Adjustable resistance:
Users can make their choice from the 8 levels of smooth, adjustable magnetic resistance that is available.
Multi-function monitor:
The bike comes fitted with a monitor that displays calories, speed, workout time, distance and heart rate.
Pulse sensors:
The bike's handlebar has pulse sensors that sync with the multi function monitor and gives important data about the heart rate.
Padded seat and back rest:
It has a comfortable padded seat and back rest that can be adjusted to different length positions depending on user's preference.
Textured pedals:
The foot pedals are weighted and has adjustable straps which allows it to be more stable.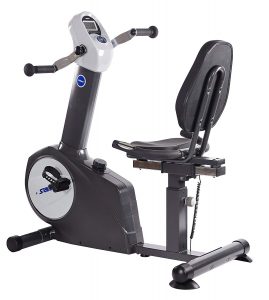 Pros
It gives a full body workout
8 magnetic resistance levels
It comes with hand pedals for upper body workout
It can track time, distance, speed, pulse and calories burned
It has a 'walk-thru' design that makes it easy to get on and off
Cons
Not possible to apply resistance to hand and foot pedals at the same time
FAQs
Does the arm handles rotate backwards?
Yes, they can be used backwards
Can you use the arm handles without pedaling?
Yes, you can use the arm without the leg pedals
What tools do you need to assemble this bike?
The tools comes with the kit. They are; 4mm, 5mm, 6mm, allen wrenches, and combination wrench with 13mm and 15mm.
Does the arm component go forward and backward?
Yes, it does
What is the maximum weight capacity?
250 pounds
Overall
This bike is suitable for people recovering from an injury and for older users, majorly because of the ease to get on and off. It is comfortable to use and it is one of the few recumbent machines that offers full body workout.


9.

Body Champ 3-1

 Recumbent bike
Its compact design makes it easy to fit anywhere in the house and also easy to move around. It has a walk-through design with an easy to adjust seat slider. It features a wide padded seat and backrest, which offers comfort during workouts. Users can stay motivated while they work out on the recumbent bike with a range of programs and varying intensity levels. They are all controlled by an LCD display.
It also has a heart rate monitor that is incorporated into its hand grips. Important information are displayed on the LCD console such as distance, heart rate, time, speed, resistance level and calories burned.
Seat lever:
It comes with a seat lever that helps users to adjust the seat so they can attain a more comfortable position.
LCD Display:
The bike's LCD display indicates time, speed, heart rate and calories burned.
Hand grip sensors:
It comes with a built-in hand sensor that helps to monitor heart rate.
Transport wheel:
The transport wheel allows for easy movement and storage
Pros
Comfortable back and seat cushions
Adjust between 16 levels of resistance
Offers smooth, fluid revolutions
Features a magnetic resistance system
FAQs
How easy can the bike be moved from one place to another?
The bike comes with wheels which allows movement and storage to be achieved with ease.
Does it have heart rate sensor?
Yes, this is built into the hand grip
What is the shipping weight of this bike?
61 pounds
What is weight limit for this bike?
250lbs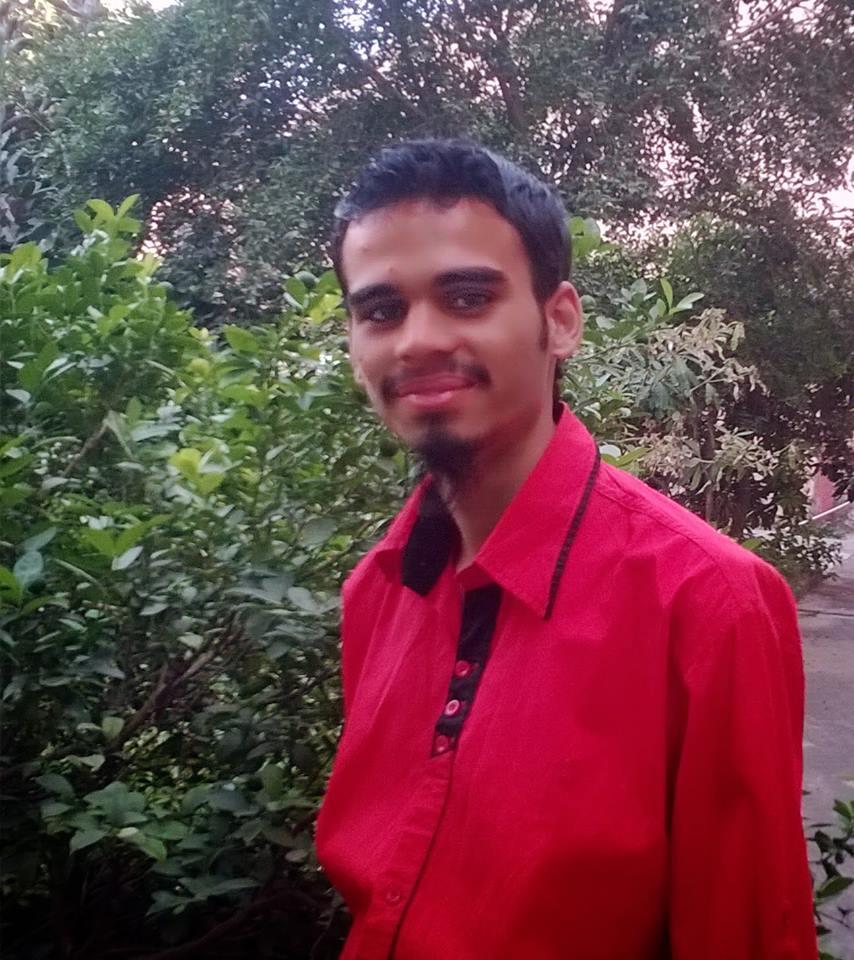 My name is Tushar, I am a fitness expert and product review enthusiast for over a decade who provides best and unbiased reviews for products available in the market on this website after doing hours of research on various topics and products including health and fitness. To read more about Tushar and this website mission head over to our About us page.