Best humidifiers 2018 will help to add moisture to the air surrounding you by converting water into steam and moisture to make the environment much more soothing and relaxing when the conditions are too dry and irritating for your body.
we have spent the time to find out some of the best humidifiers available in the market for everyone's need after doing market research and listed them below with their overview and feature so that you don't have to spend time in finding the right one for your need in your budget. so go ahead and buy the humidifier which you like with discount from below
Best humidifiers 2018
1. AIRCARE EP9 800 Digital Whole-House Evaporative Humidifier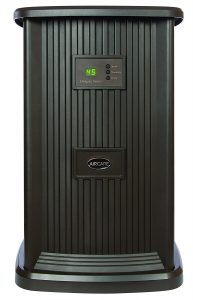 It is an amazing pedestal style air humidifier which can work to add moisture to the air in house size up to 2400 sq feet easily. it comes with a digital controller which allows you to maintain the perfect humidity level in the room according to your requirement with great accuracy. the small digital display on the humidifier shows the fan speed and current humidity level.
Its 9-speed levels allow you to get the perfect humidity condition across the room and to maintain that level it gets shut down automatically once the desired humidity conditions are reached in the room or when the water in the tank gets finished.
it comes in dimensions of 18 x 18 x 27.2 inches and weighs around 27 lbs.its advised to change its filter in 6-12 months depending on your usage.
its tank size is 3.5 gallons and can run up to 60 hours but I think as per its claim of covering 2400 sq feet house, it would have been good if the tank size was bigger to cover the full house with adequate humidity.
it helps in preventing unwanted flu and allergies and gives soothing effect if you have a sore throat dry skin.
some people complain about noise when running at high speed and that it doesn't cover the entire home to get the required humidity level, so if you also face this problem then you can run it at full speed of 9 to get some humidity in short span of time in the room or buy 2 humidifiers for a bigger home or choose a humidifier from other companies listed below.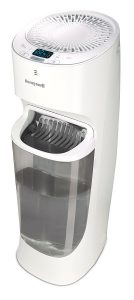 3. AIRCARE MA1201 Console-Style Evaporative Humidifier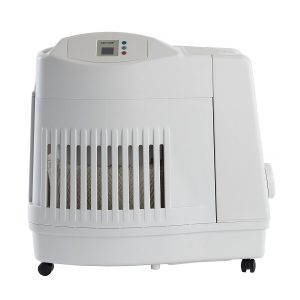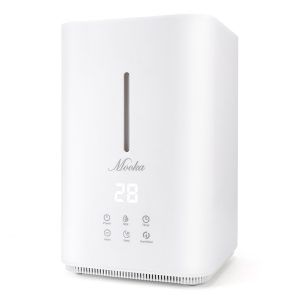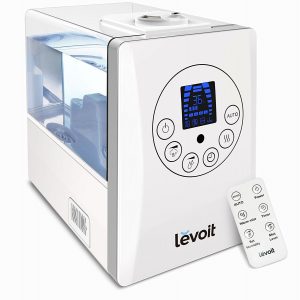 This is an amazing humidifier from Levoit with a lot of interesting features like cool and warm mist ultrasonic dispenser with 3 intensity level to make your room humid and atmosphere in good condition in less time than required by other humidifiers in the market without aking too much noise as it works on the maximum noise level of 36dB.
On its small screen, you can see the current humidity level in the room to set it accordingly for a comfortable environment.to operate this humidifier without any hassle it comes with touch-sensitive control panel along with a remote control for easy control and use of this Levoit humidifier without any problems by anyone in the house.
It is 6 ltr humidifier unit which is capable to work for about 20-36 hours of use in one go for adding humidity in the room size of about around  280 sq feet easily which makes it perfect for office use, bedroom, living room etc.
If you turn on its auto mode then it will automatically detect the require mist level in the air and diffuse accordingly to make the atmosphere around you pleasant.
Its a CE&ETL certified humidifier from Levoit which comes with a 2-year warranty from the company for issues and problems that you might encounter while its usage. It comes in dimensions of  11.3 x 7 x 10.5 inches and weighs around 5 lbs.
Some people say that it produces loud noise and white dust so if there was a demineralization cartridge for water in this humidifier then it would have been great but nevertheless if these problems concerns you then don't buy this and choose something else from above list but if you want to buy this Levoit humidifier at discount and read user reviews then click button below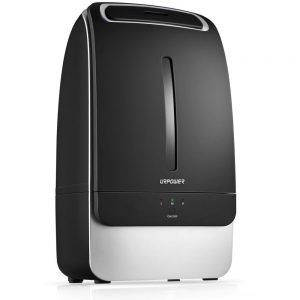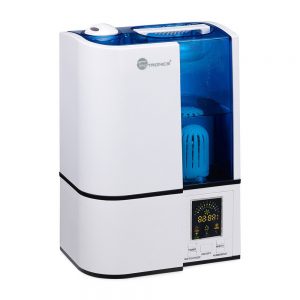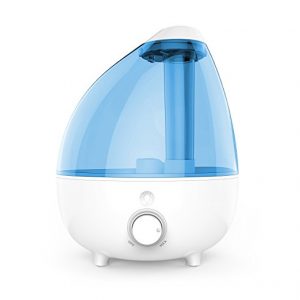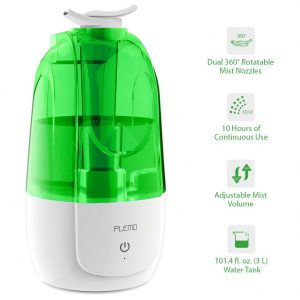 If you like our collection of Best humidifiers 2018 given above and you were able to find the right one for your need then let us know your review about it and also share this post with your friends and family as it would help them to make their air humid too with these top-rated humidifiers in 2018 and beyond.