Everyone like their environment clean including their garden, home, and office area. backpack vacuum cleaners help you clean your surroundings easily without any issues to live a healthy and happy life and breath clean air always without any bacteria's and germs.
so come on lets take a look at some of the best backpack vacuum cleaner reviews which would help you choose the right vacuum cleaner for your requirements easily in 2022 and beyond.
best backpack vacuum cleaner 2022
Whether you are cleaning large or small areas, high surfaces or low, hard surfaces or carpet, the Super CoachVac 10-quart backpack vacuum is a productivity powerhouse built to tackle the most challenging cleaning chores. The design allows it to save a lot of time and effort.
It comes with an extra-long, fifty foot power cord that allows it to be used to clean large areas without the need of unplugging. This vacuum cleaner from proteam is one of the favorite options among professional cleaners in the world. It is a powerful, high-filtration unit that comes with a commercial toolkit and two-piece wand. This feature makes it ideal for cleaning high-square footage areas, e.g. office buildings, convention centers, universities and meeting halls.
Features
Versatile, adjustable harness for maximum comfort:
This vacuum comes with an adjustable harness that is designed to evenly distribute the weight of the machine around the carrier's natural center of gravity. This guarantees better balance and gives a lighter feel. The cleaner make use of your body's core and leg muscles, thereby eliminating fatigue and reducing strain on the body.
If it is worn properly there is less chance of accidental contact with walls as the harness fits closely to the users body. Also, the vacuum will respond to the motion of the user as he/she is vacuuming. It comes with an integrated tool belt that helps to keep accessories close at hand while vacuuming is going on.
Floor, ceiling and everything in between:
This vacuum comes equipped with accessories that make them fit for detail cleaning, this includes cleaning floors, ceiling fans, upholstery and low pile carpets etc. The versatility of this vacuum allows it to move across different hard surfaces (tile, hardwood, linoleum) and low-pile carpets. It also allows users to clean above the floor areas, this includes; furniture, light fixtures, stairs, and vents.
Four level filtration to trap dust and allergens: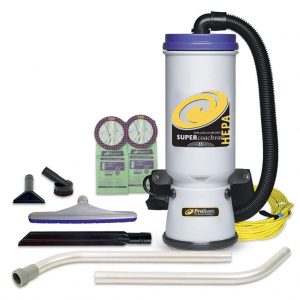 There are many substances in our homes and offices that are responsible for the allergies that we suffer, some of these substances are dust mites, dead skin cells, pet hair, mold, pollen and bacteria. There are many places in our environment where they can lurk.
Four level filtration system along with organically treated intercept micro filters makes the vacuum highly efficient at capturing dust mites, bacteria, pollen, and any other particles that measure 1 micron and above. This helps to improve the quality of air indoors.
Efficient, effective cleaning:
The Super CoachVac is highly effective and efficient at removing dust and dirt. It cleans more square footage in less time and would consume half the energy that would be expanded while using other vacuum cleaners.
Reduce maintenance costs:
The Super CoachVac offers a substantial return on investment. The efficiency of the vacuum helps to save thousands annually on what would have been labor cost. The cost of ownership is equally significantly lower. The yearly average cost of this backpack vacuum is almost 77% less when compared to other such vacuums.
Pros
It helps to save vacuuming time

It comes with long, flexible wands that allows the head to swivel under chairs, tables, and desks.

It is great for stairs and hallways

They are great for hardwood
Cons
The heat from the machine can cause users to sweat

It is sometimes not so comfortable in tight spaces


---
This hoover vacuum is one of the most convenient back-pack Vac you will ever find, weight at just 9.2 pounds. It comes with a chiropractor-design harness which helps it to reduce strain and increase its productivity. Unlike most other vacuums that create so much noise, the Hoover Commercial Shoulder Vac Back Pack works quietly without disturbing the environment; it has a 66dBA quiet operation. You also don't have to switch outlets so frequently, as it comes with an extra-long 48 feet 3-wire quick change cord.
You can clean with the tremendous comfort with the Hoover C2401. The dust and debris collected are stored in backpack canister, thus eliminating all forms of obstructions. The vacuum cleaner is so compact, that it allows users to clean tight and narrow spaces and passageways. The backpack can carry as much as 6.4 quarts of dust and debris.
Features
Versatile:
The C2401 is a highly versatile vacuum cleaner as it can either be used with a shakeout cloth liner or using a disposable paper bag insert. This allows users to have a flexibility of choices and options which is required for good cleaning job.
Efficiency:
The C2401 comes with HEPA filters which removes close to 99.7% of particles with sizes 0.3 microns or smaller. This means that dust mites, pollen, debris and many more allergens can be trapped and locked away.
Lightweight:
With a weight of 9.2 pounds, the C2401 reduces fatigue and it is also easy to carry from one room to another.
Cleaning Accessory Pack:
It comes with a detailed accessory set, which is fairly easy to assemble and guarantees a detailed cleaning
Hypercone Filter: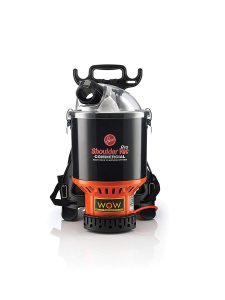 It cartridge filters guarantees a consistent air flow without the loss of suction
Positive lock hose:
It hose is powerfully in place, such that it won't pull out during usage.
Chiropractor Designed Harness:
The vacuum is designed with chiropractor harness. This helps to reduce strain on the user as well as increase vacuum portability.
Pros
A thorough review of the comments of C2401 users has provided some very valuable insights into the strengths of the vacuum cleaner;
It is very good on hardwood floors

It has HEPA filtration

It comes with a very long power cord

It has cloth dust bag but can use disposable bags

The curved end piece of the hose is very effective when it comes to cleaning baseboards
Cons
It is not so excellent on carpet

Sometimes, the attachment quality can really be poor

The reusable bag can be quite messy to clean or empty

The manual isn't too helpful

It cost more than the traditional push-around vacuum cleaners

Some users have complained about the straps of the backpack being not flexible or versatile enough


---
The Sanitaire EURSC412B Quiet Clean Backpack Lightweight Vacuum is ideal for cleaning places which are difficult to reach and also for moving around in large work areas like offices. It is well-equipped and has a four-stage filtration. The design of the vacuum includes a 12″ cleaning path and 50 feet long cord.
The Sanitaire Backpack Vacuum has all the essential features that you would expect from a topnotch appliance. Although it is not exactly the lightest backpack vacuum in the market, it straps are ergonomically positioned such that they fit properly on the unit of the users back, thereby redistributing in a proper manner. Also, coming at a mere 11.5 pounds, it can be carried around for cleaning in large spaces. The vacuum also comes with a handle at the top which makes it convenient to handle when it is not being used. The HEPA filter allows it to remove as much as 99.97 percent of particles that are 0.3microns and above.
Below are some of its features;
Unsurpassed performance:
The vacuum comes with an 11.5-Amp motor which delivers very powerful suction. The suction is strong enough to take out ground-in dirt and grime from bare floors or low-pile carpets very quickly.
Useful accessories:
A great number of accessories come in a box alongside the vacuum, some of which includes; double-bend wand, dusting brush, curved aluminum wands, carpet tools, crevice tool, and bare floor tool. All of these play very vital role in tackling debris and dust in every nook and cranny of your premises, ensuring maximum comfort.
Onboard storage: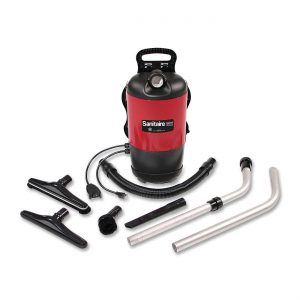 Aside from the fact that the accessories come in the box with the vacuum, there is an onboard storage available which makes the tool always within easy reach.
Long cord:
The vacuum comes with a 50-foot long cord which helps to eliminate the need to buy an extension cord when cleaning large premises.
Hassle-free maintenance:
With this vacuum you really don't need to be technically savvy to maintain it. Basically, all that is needed is for users to remove the dust bags. The appliance works with 6-quart paper bag and utilizes HEPA filter for trapping dirt and dust.
Easy to carry:
The vacuum is fairly easy to transport from one place to another.
Pros
Some of those who have bought this vacuum have been impressed by its performance. Below are some of the things they liked most about it;
The suction power and precision are very impressive, working on bare floors and low pile carpets

The vacuum comes with a very long cord, which allows cleaning of 1,400 square foot without the need to transfer plugs.

The machine can run very quietly

It comes with a strap which can be used for carrying it around

The package comes with a wide range of very essential accessories

It has a very long wand which makes cleaning easier and allows cobwebs to be more reachable

It picks pet hair and dust, ensuring that your floor is left much cleaner
Cons
A few customers were not so impressed and gave a few comments of disappointment. Below were some of their reasons;
It can be heavy to carry around for some people, particularly women with smaller frame

The vacuum was a little too difficult to operate

It is more suitable for industrial use than home use


---
Pro lux

 Comfort Backpack vacuum
The Pro lux Premium Comfort Pro is known for three things; superior comfort, improved cleaning performance and productivity. Different reputable studies have revealed that this backpack cleans more than two and half times faster than your traditional upright vacuum. Comfort Pro was built to deliver un-parallel degree of comfort and efficiency for users. It comes with a large canister and has some premium features.
Weighing only 9 pounds, it is a vacuum cleaner that was designed with your comfort in mind. The 1,100-watt motor produces a low sound of 62 decibels. The backpack vacuum comes equipped with three thickly padded straps which can easily be adjusted in seven different areas for a customized fit.
The air travels across the 6-foot hose at an astounding speed of 130 cubic feet per minute, reaching the vacuum's 1.5 gallon shake-out bag located inside the container. The vacuum's power cable has a length of 50-inches and it is commercial grade, making it tough enough to stand up to wear and tear. It has an extra long telescopic wand which helps it to reach high places.
Features
Th

e Deuter Difference:
It comes with a Deuter Aircomfort harness. Deuter is an industry-leader in the hiking and backpacking industry with more than 115 years of experience. The Deuter Aircomfort harness helps to reduce perspiration by as much as 25%. It also comes with a Variquick system which makes it easy adjust the unit to fit the exact length of the users torso.
Certified clean: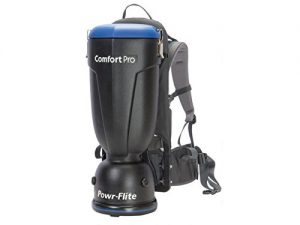 The vacuum features a five-stage filtration which includes a HEPA filter bag, SMS Shake-out bag, pre-motor filter, post-motor filter and an exhaust filter. The Comfort Pro is recognized as the ultimate in clean.
Effortless Efficiency:
The vacuum comes with a revolutionary new belt which helps to store high-performance tools and wands needed for different jobs. This helps to leave the hands free to carry out other functions.
Customizable:
Its exclusive harness with seven point adjustment points allows users to be able to create unique custom fit that is better than most other vacuums out there.
High performance tools:
The vacuum comes with high performance tools which helps it in tackling a variety of cleaning jobs. Some of these tools includes; crevice tool, upholstery tool, pro lux-Glide hard floor and carpet tool, and crush proof hose. The waist belt can comfortably holds all these tools.
Pros
It comes with many high performance tools used for a variety of jobs

It is effortlessly efficient

It guarantees productivity and comfort

It meets LEED recommendation
Cons
It carries a commercial price

It is used mostly for commercial purposes.


---
Unlike many other vacuum cleaners that are specialized for either residential or commercial purposes, the Atrix VACBP1 ERGO backpack vacuum can be used effectively and efficiently in both residential and commercial facilities. At a weight of just 10.3 pounds it can be carried out fairly easily. It has an enormous reach considering its six foot stretchable hose and its 37-inch wand. It comes with 1400-watt motor which allows it to move air at an impressive speed of 106 cubic feet per minute.
This atrix vacuum is capable of holding up to two gallons of debris, dirt, and dust. It is equipped with a four-level filtration system which includes a pre-motor and an exhaust filter. And to round off the filtration prowess, it also has a true-HEPA bag plus a cloth bag. All of these helps to remove fine particles out of the air and makes it quite beneficial for people who suffer from asthma, allergies and most other breathing challenges.
The vacuum comes with a wide waist strap which can be used for securing multiple vacuuming attachments. The back pack vacuum can also be converted to a blower alongside the exhaust filter cover and blower adapter. To handle any blowing task in details, there are three nozzles from which to choose from. The blowing feature is pretty much handy and important as it can be used to blow dirt and dust into one corner so they can be easily collected.
Another unique feature of the Atrix HEPA Backpack Vacuum is its quick and ease of adaptation. It can quickly be adapted to left or right hand operation thereby making it usable for anyone without having to prioritize any dominant hand.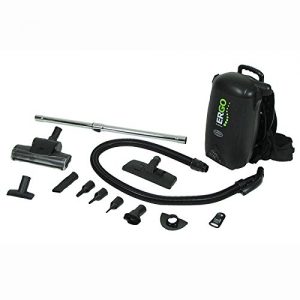 Features
Ergono

mic Backpack Vacuum:
This vacuum has an ergonomic design with a dimension of 12″x9″x20″. This makes it perfect enough for easy and effortless movement during vacuuming.
Comfortable fit:
It comes with an adjustable shoulder strap and belt loop which helps to ensure a comfortable fit and gives a firm back support.
Turbo Series Brush Beater:
This vacuum comes with a High Power beater brush attachment which helps to thoroughly clean up carpeted surfaces and captures any available particulates.
Long reaching metal wand:
The vacuum comes with a long reaching metal wand attachment which helps to reach tough to clean areas and ensures that your floor cleaning experience is a simple one.
Mobile cleaning solution:
Weighting at only 10.3lbs it is the ideal mobile cleaning solution. It is apt for hotels, hospitals, janitors, warehouses, drapes, blinds, pest control etc.
Pros
Below are a few positive reviews shared by consumers who have used, and loved, the Atrix HEPA backpack;
The suction of the vacuum cleaner is very intense.

It is very affordable considering how effective it is

It is fairly easy to carry around on the back. This is much better than having to drag a canister behind you when cleaning.

The vacuum has an amazing smooth floor attachment which makes it usable in most rooms in a house

It is excellent at cleaning pet furs and fallen hairs from humans.
Cons
According to consumers, below are some of the aspects that are lacking and needs to be improved upon;
The backpack straps occasionally comes off their buckle

The bottom part of the vacuum cleaner becomes hot during usage thereby causing sweating at the lower back

It is not so easy to use in small spaces as it can leave scratches on the walls.


---
Benefits of backpack vacuum
Backpack vacuum is a common sight in commercial setting and even in homes, this is because of how powerful it is, its portability and versatility. Below are some of the practical benefits of using them;
Powerful:
This is one of the key selling points of backpack vacuums. Whether you are planning to clean your home or business place, you certainly want to finish as soon as possible so you can move on to other things. Backpacks Vacuums typically come with motors stronger than what is obtainable in uprights vacuum cleaners. This helps you to get incredible suction allowing your cleaning chores to be completed in good time.
Portable:
This is another key benefit associated with backpack vacuums. They are portable enough to be worn on the back making it easy for the wearer to climb a flight of stairs or move from one room to the other without needing to pull or drag something alongside. Wearing this backpack also allows your hands to be free, which can then be used to move obstacles while you clean.
Versatile:
Typically, many homes have an array of floor types that differ from room to room. This does not present any challenge for the backpack vacuum. Their super strong suction makes them apt for carpet cleaning. They can equally be used for hard floors too without the fear of damaging as is the case with some brushroll-equipped vacuums. They come with flexible long hoses which bend and stretch, and can reach areas where most other vacuums cannot get to.
Ergonomic:
Upright and stick vacuums are usually tough on users considering how much time the user will have to hunch over. This is due to height difference. This is not an issue with the backpack vacuum as it comes with multiple straps which helps to distribute the cleaner's weight. This way, users won't have to strain their muscles and will find it easy to move around.
Durable:
Backpack vacuums are made from materials which are stronger than those obtainable in your typical vacuums found in homes. They also have less mechanical parts like swivel heads and wheels, meaning that very few things can break during use.
High-capacity:
Backpack vacuums are built to have a high capacity, meaning that they can hold a lot of debris and dirt in their bag or canister. The helps to cut down on the number of trips you will have to make to the garbage and helps to cut down on the money you would have spent on bag replacements.
Backpack vacuum FAQS
Are backpack vacuum heavy?
Although they are very powerful equipment, the weight of an average backpack vacuum is quite manageable, typically ranging from between 10lbs to 15lbs.
However, what is considered comfortable to one person may not be defined as such to somebody else. Therefore, it is advised to opt for vacuums with weight which suits your level of comfort and strength.
Do backpack vacuum pollute the air?
At first glance at the airflow and wattage specs of backpack vacuums, it is easy to assume that the manufacturers sacrificed efficiency for power. But this isn't true. Backpack vacuums typically contain a streamlined filtration system made up of multiple filters to meet the tough requirements imposed by commercial customers.
One of these filters are usually true HEPA filters, which makes them capable of trapping 99.97 percent allergen. Some vacuum feature a sealed filtration system, which means that almost all of the fine particles caught by the filters remain inside the vacuum until it is empty.
Are backpack vacuums loud?
According to the Occupational Safety and Health Administration, the noise exposure limit for an 8-hour workday is set at 90db. Manufacturers of backpack vacuums have therefore taken steps to ensure that the noise generated by their equipment is well below this threshold. This is achieved by making the vacuum casing from sound-dampening materials or by using brushless motor. Most vacuums therefore produce sound of between 60 to 70dbs.
Do backpack vacuums come with attachments?
A good number of these vacuums come with a wide assortment of tools. Some of the most popular ones include a glider, which is used for cleaning carpets, a scalloped tool for cleaning floors that has a high sheen, dusting brush for blinds and fabric, and a crevice tool for narrow spaces.
Some vacuums can convert to blowers. In such a case, the appropriate nozzles and attachment for sweeping tasks will be provided. Angled or telescoping wands can also be provided for extending reach.
What are basic tips for maintaining vacuum cleaners?
The instructions for maintaining backpack cleaners differ according to the model in question, but below are some general tips to ensure that can ensure your backpack vacuum stays in great working condition for years to come.
Never run your vac without all the filters and dust containers in place

Change or clean filters according to manufacturer's specification

Ensure to keep bag at or below 75 percent capacity. This will reduce the likelihood of overheating the motor

If you are using a corded backpack vacuum, then you must carry our weekly check of the cord to ensure there are no frayed connections.

Which is better; paper or cloth bags?
Vacuums contain bags that are either made of paper or cloth. Each of these options have its own pros and cons. Paper bags are disposable and can only be used once. It is expected that once they are full you toss them completely and buy a replacement. Cloth bags, on the other hand, are reusable. The content can simply be dumped and the bag shaked to be used again. Although bags won't cost extra money, it can be messy. While also dumping dust can also escape into the air.
In the end it is up to you to choose which you prefer, weighing cost versus convenience.
Buying guide
Below are a few points to consider before buying a backpack vacuum;
Cost
Weight
Harness
Ease of use
Noise level
Air filtration
Conclusion
Backpack Vacuums are designed to make our lives easier and make our environment cleaner. They can be used for residential and commercial purposes.
Each backpack vacuum has its pros and cons, and areas where it supersedes other options. In order to obtain the right vacuum cleaner, a consumer must consider his/her peculiar condition or situation and should choose which cleaner can best match this condition.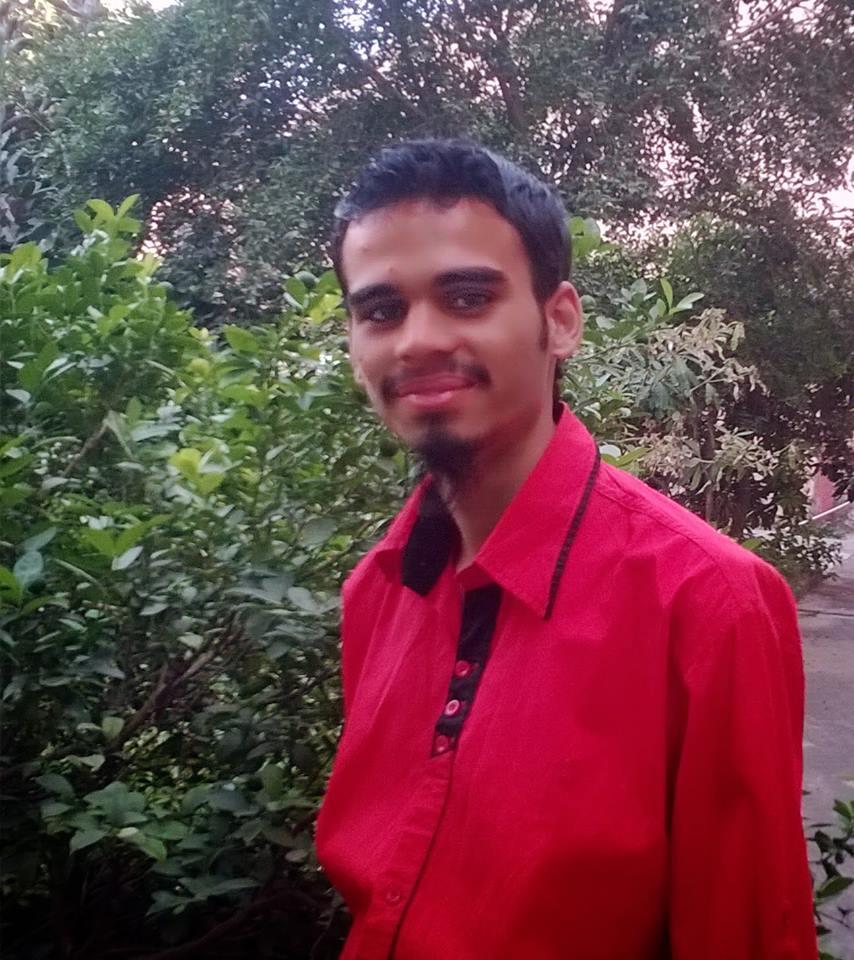 My name is Tushar, I am a fitness expert and product review enthusiast for over a decade who provides best and unbiased reviews for products available in the market on this website after doing hours of research on various topics and products including health and fitness. To read more about Tushar and this website mission head over to our About us page.