Many people find that becoming vegetarian or vegan means eating "rabbit food", i.e. only salads and brown rice, bland meals and bland.so here we discuss benefits if plant based diet and how to include it in our daily diet routine to make our lives healthy
But this is a myth. You do not have to be vegetarian to enjoy the benefits of a diet based on vegetables than animal foods.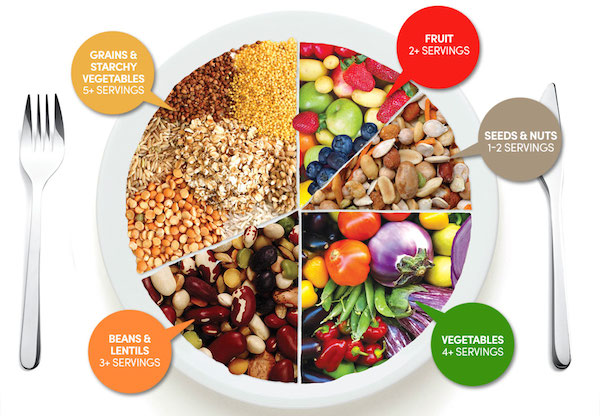 Healthy food has several health benefits, both physical as mental. It not only detoxifies your physical body but also the mind and the heart. A proper diet can prevent disease and to improve cases of emotional problems such as depression and anxiety. You can also increase the available energy level.
How to pass a practically every diet based on protein and fat to more plant-based foods?
Here are some steps to achieve this goal  without sacrifice:
Step 1: Do not be radical
Do not change your diet radically. It is recommended to seek professional nutrition and follow their instructions. If you do not want or can not pay for this monitoring, use common sense and follow your own pace. Radical changes usually do not bring long-term results and generate frustration.
Step 2: Start with just a vegetarian meal and grow from there
You can get for breakfast, a simple light meal, and then move to more complex meals – lunch and dinner.
One suggestion would be a smoothie of yogurt and fruits such as grapes, bananas, strawberries or apples sweetened with honey. A bread with green leaves – lettuce, arugula, watercress – cheese and turkey ham slice. The goal is not to completely eliminate the protein of animal origin, but rather reduce their proportion in the diet.
Step 3: Prefer tea to coffee
Brazil is known for the quality of their coffee, but this drink, though healthy, is stimulating and tends to dehydrate the body. If possible, prefer lighter teas, such as green tea, white, flowers and fruits.
Step 4: Drink your food
What does "drinking" food mean? It means you can prepare very nutritious green juices and get all the vitamins and minerals you need to eat well without much chewing. Healthy beverages hydrate, feed and can do wonders for your health, mood and self-esteem.
Step 5: Try new ingredients
This is the time to discover new ingredients and cooking techniques. Among the foods that contribute to a plant-based diet and which are not so well known are creaky, spirulina, the chickpea, artichoke and eggplant.
Step 6: Prepare vegetable sandwiches
The secret is in the combination of ingredients and choice of bread and sauces, in order to make their sandwiches delicious vegetables.
For example, you can prepare eggplant burgers, chickpea folders (hummus), tofu cream and sauces natural yoghurt and herbs, or mustard and honey.
To enrich nutritionally your sandwich, use fresh spinach, carrots and grated beets, radishes, watercress, lettuce and whatever else you want, avoiding cheeses and meats.
You can create a multitude of sandwiches, since it is a very versatile recipe.
Step 7: Adapt your favorite recipes to make them healthier
If you love brigadiers, for example, you can try soy milk instead of condensed made with cow's milk, more fat. If you like pizza, try whole – wheat pasta, tomato sauce made at home, eggs and vegetables as a topping instead of pepperoni.
Yoghurt ice cream is also healthier. Prefer olive oil butter and prefer baked goods, baked and grilled to fried food.